Education
Driving wealth and development
The importance of education in driving sustainable development is hardly disputed. Considerable progress has been made in recent decades, thanks to initiatives like the UNESCO World Declaration on Education for All and the international promotion of universal primary education. However, simply expanding basic education and school enrolment is not enough. In many developing countries, quality deficits persist, so individual and societal potentials often remain untapped.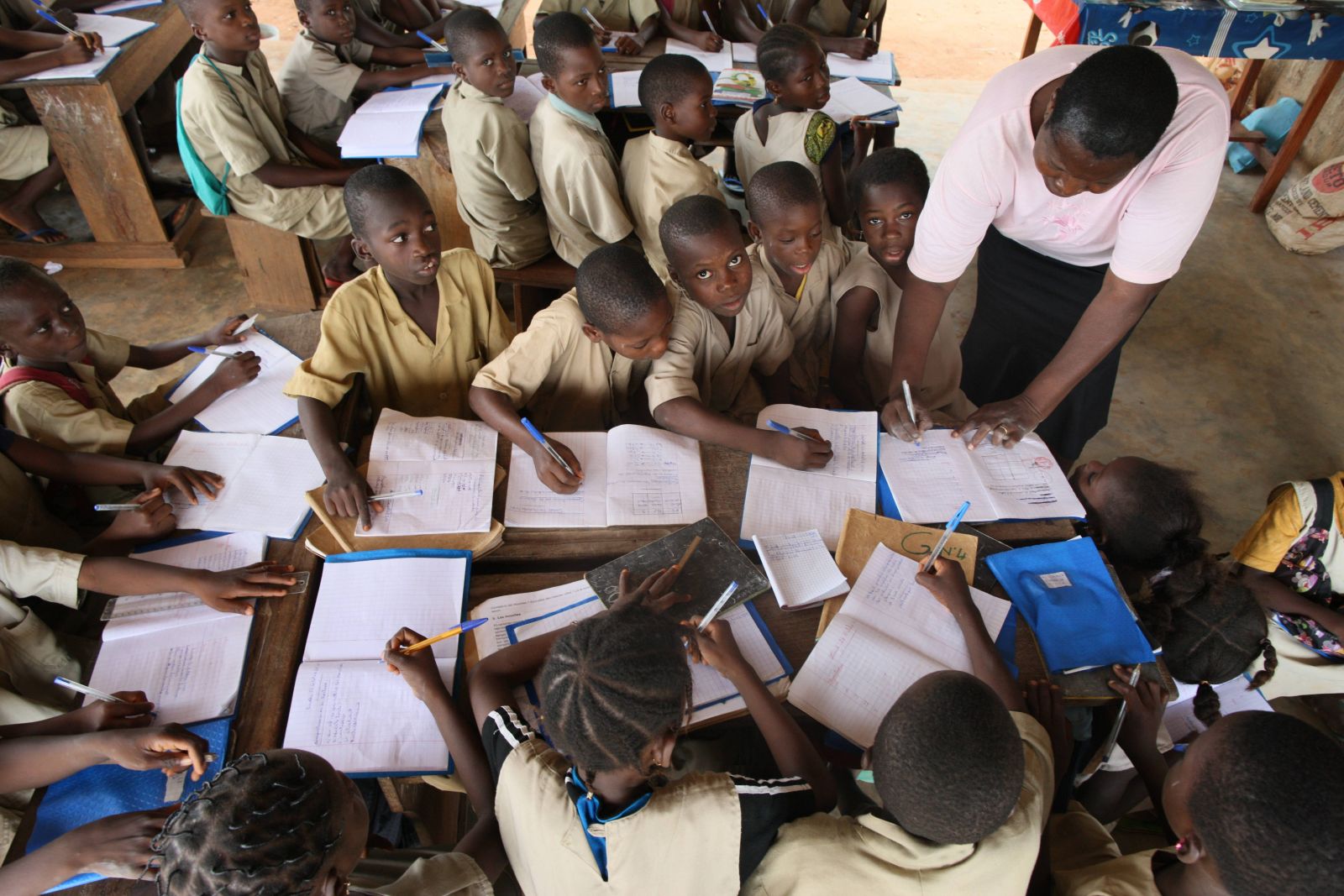 picture-alliance/robertharding
Education and its role in fostering growth is a topic that has preoccupied theorists of both educational science and economics as well as policymakers for decades. "Human capital" – a term often used by economists – refers to the economic and social value of formal education and skills acquisition. Education has recently been regaining attention in economic growth research, the academic discipline that seeks to explain growth and development patterns in different countries.
At the macroeconomic level, education provides a foundation for economic growth and societal development by boosting productivity and fostering the ability to critically assess social affairs. From a microeconomic perspective, a solid education builds self-confidence, facilitates participation in society and drives personal development. Moreover, it opens up job prospects and allows people to earn money.
In general, the state is expected to provide access to basic education and training opportunities. At the global level, however, education opportunities and access to them are most unevenly distributed. In Germany, young people go to school for 13 years on average. In sub-Saharan Africa, the respective number is only 5.4 years.
For such reasons, education is a core issue of international development cooperation. Moreover, the right to education is part of the Universal Declaration on Human Rights (Article 26). Though the Declaration is not legally binding, it constitutes a commitment which 193 states of the world made voluntarily.
The international community reiterated its commitment to improving education in the Millennium Development Goals (MDGs) that were adopted in 2000. One of the goals (MDG2) was to achieve universal primary education and guarantee that all children can complete primary school by the year 2015. Considerable progress was indeed made towards raising the number of children who go to primary schools. According to World Bank, the percentage of primary school age children enrolled in primary or secondary school in sub-Saharan Africa increased by approximately 25 % from 1996 (54 %) to 2015 (78 %). Estimates suggest, however, that more than 125 million children worldwide left primary school without having acquired basic literacy and numeracy.
Another MDG was to promote gender equality at all educational levels (MDG 3.A). Nonetheless, gender disparities persist in educational attainment across all levels in sub-Saharan Africa. Girls' education particularly lacks behind in the fields of math and science. Only 21 % of girls in Sub-Saharan Africa graduate from secondary schools. The comparative share for boys is 28 %. The gap highlights that focusing only on enrolment is plainly not enough.

Education and education policy in Benin
For good reason, the international education debate now emphasises issues of quality and is geared to closing gaps across all levels of schooling. The Sustainable Development Goals (SDGs), which were adopted 2015 as the follow-up agenda to the MDGs, reflect this shift. The new educational goals are to ensure inclusive and equitable quality education for all and to promote lifelong learning for everyone (SDG 4). Moreover, the debate on how to improve the quality of learning and education in developing countries features prominently in the World Bank's most recent World Development Report.
This year, Benin will host the annual conference of the Poverty Reduction, Equity and Growth Network (PEGNet). The topic will be how the quality of education and learning outcomes in developing countries can be improved. As Benin has experienced an unprecedented rise in school enrolment rates over the past two decades, this topic is highly pertinent.

School subsidies for girls
Benin's educational system has six years of compulsory primary school, four years of secondary school and three years of upper secondary school. Depending on their grades, graduates can then go to university or a vocational school. While school attendance in Germany is compulsory and free of charge up to the age of 18, in Benin only the first six years are mandatory. This low-income country cannot afford to abolish tuition fees for all levels of education.
Despite the economic challenges, Benin's government has adopted several policies and reforms to improve the education sector. For example, in 2010, the Ministry of Secondary Education started subsidising tuition fees for female students attending secondary school in rural areas. The subsidies are designed to boost women's educational opportunities.
Benin's government, moreover, has partnered with researchers to assess the effectiveness of some of its policies. An ongoing research project of the Institute for Empirical Research in Political Economy (IERPE) at the African School of Economics in Benin is investigating the impact of supplementary mathematics lessons on girls' performance. The project compares 90 randomly selected schools in three different scenarios: additional mathematics courses are either provided to boys and girls or only to girls, and a control group gets no extra courses. The results of this study will be presented at the PEGNet conference in October.
Another ongoing research project analyses technical vocational education and training (TVET) in Benin and its impacts on youth employment. Researchers of Switzerland's ETH Zurich and the University of Abomey-Calavi in Benin are evaluating the impact of a formal TVET programme called "Certificat de Qualification Professionnelle (CQP)". It upgrades the informal apprenticeship that is commonplace in most West-African countries, by linking it to formal school lessons according to the German model ("dual system").
To evaluate the impact of the CQP, the six-year project employs a regression discontinuity framework and intends to run a randomised controlled trial (RCT). In addition, it is developing an innovative, mobile-phone based method for monitoring young people's labour-market situation.

Annual PEGNet Conference
Projects like these show that there is a lot of interdisciplinary and international research underway that addresses the question how to improve education in developing countries. The long-term improvement of educational prospects will depend on shifting the focus from quantity to quality and involving local experts in the debate – as PEGNet does at its annual conferences.

Janina Meister is a graduate student in Economics and Public Policy at Johannes Gutenberg University Mainz and an intern at the Poverty Reduction, Equity and Development department of the Kiel Institute for the World Economy.
This year's annual conference of the Poverty Reduction, Equity and Growth Network (PEGNet) will take place in Cotonou, Benin on 11 and 12 October, 2018. It will be organised in cooperation with the African School of Economics and dedicated to "Improving the quality of education and learning outcomes in developing countries".
janina.meister92@googlemail.com