Elections
Fighting disinformation
Every day, social media spread so-called fake news, which include plain misinformation, misleading propaganda and brazen lies. In election times, online disinformation is especially destructive because it can trigger violent riots. Penplusbytes, an independent media organisation in Ghana, has found a way to detect and deflect disinformation on election night.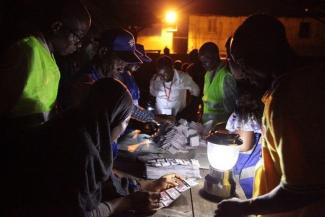 Christian Thompson/picture-alliance/dpa
Journalists are often not well prepared to deal with the challenges of social media. This applies especially to propaganda which is disguised as news. Since elections have all too often sparked mass violence in African countries, disinformation is especially dangerous immediately before, during and after elections.
To stem the danger, Penplusbytes established the African Elections Project in 2008. Penplusbytes is a civil-society organisation (see box next page). It has so far been involved in election coverage in Cote d'Ivoire, Niger, Ghana, Malawi, Mozambique, Namibia, Mauritania, Botswana, Togo, Guinea and Liberia. The African Elections Project helps to consolidate democracy by using the web and social media and spreading reliable information concerning elections.
The building blocks for this project include:
training for senior editors, journalists and reporters,
use of text messaging in coverage and monitoring,
an election guide for the media,
establishment of trustworthy online portals,
promotion of knowledge management (with approaches like lessons learned, challenges, key success factors et cetera) and
media monitoring.
Media monitoring is particularly important. Relevant methods include:
the mapping of electoral incidents,
early warning in case of dangerous developments and
real-time monitoring by use of up-to-date applications.

The Social Media Tracking Centre
The monitoring of mainstream media (TV, radio, newspapers) has become the general norm in Africa. However, social media trends are harder to track and must be taken into account too. Penplusbytes therefore developed what it calls the Social Media Tracking Centre (SMTC).
The first SMTC was deployed during Ghana's 2012 elections. The idea is to identify electoral malpractices in real time, using such information to warn the relevant institutions. In Ghana, Penplusbytes passed relevant information on to the National Elections Security Task Force (NESTF) – and this body acted on it.
SMTC teams monitor platforms like Twitter, Facebook et cetera. They use the Aggie social media tracking software, which was developed at the Georgia Institute of Technology in the USA. Aggie software allows the assessment of trends grouped around topics like voting logistics, violence, political parties et cetera. All social media content that comes in is subjected to key-words categorising accordingly. For example, "fighting at polling station" is categorised as "violence".
The SMTC approach requires three teams. The first is the "tracking team" which monitors what is going on. It passes all relevant items on to the "verification team", which must check whether the information is correct or not. Once that is done, the "escalation team" informs stakeholders. It is not only important to warn of real events; informing them of news being fake matters too, since authorities can also be misled.
The fact-checking process is quite challenging. First of all, the verification teams check what "trusted sources" are saying about the content concerned. These sources have been followed for quite some time, and their reliability has thus been tested. Moreover, the team typically is in regular contact with these sources.
Other issues are considered as well. They include the authority of content generators, their possible motives as well as who – and how many others – are sharing the content. These things give fact-checkers important clues. If a post comes from someone with an obvious bias this will raise a red flag, of course. The source, moreover, will be considered less trustworthy henceforth.
In Ghana, the SMTC relied on tech-savvy youths from the country's institutions of higher learning. Once relevant content was confirmed to be either true or false, a rapid electoral incident report was shared with various stakeholders, including the NESTF.
The Social Media Tracking Centre received 297,660 incoming reports from Face­book, RSS Feeds, Twitter, SMS and Whats­App. On average, there were 70 reports per minute. Thirty-nine per cent of verified incidents related to polling logistics like delayed voting, missing ballot papers or failures in biometric verification devices. On the other hand, 18 allegations of misconduct, violence and fraud turned out to be misinformation.
In Ghana, the SMTC effort was supported by Deutsche Welle Akademie from Germany and the National Endowment from Democracy from the USA. Apart from the NESTF, the National Electoral Commission, the Coalition of Domestic Electoral Observers and the security forces were informed by the SMTC in real time. SMTC team members were embedded at such stakeholders' control centres moreover.
According to all sides involved, the approach proved useful. James Afedo, communications manager at the Ghana Electoral Commission, said: "We are elated that we worked with Penplusbytes in the elections. The Social Media Tracking Centre enabled us to use the citizens as our eyes on the ground in monitoring the electoral process. We used the reports as a way of resolving issues that cropped up during voting which were reported by citizens on social media." Kingston Tagoe, an IT entrepreneur and SMTC supervisor, said: "The SMTC ensures transparent and peaceful elections, and we are excited to play a role to make this possible."
In order for the team members and selected journalists to acquire more knowledge and skills about how to deal with fake news, Penplusbytes organised a series of trainings both in Accra, the national capital, and Kumasi, the regional capital of the Ashanti region. Moreover, Penplusbytes cooperated with the EIB network, which runs radio and TV stations as well as websites.

Conclusion
Combating fake news is tricky, since one is confronted with challenges of time, must decipher a huge volume of data and should detect the original source of an issue. Penplusbytes deployed SMTC to help in detecting incidents of fake news online surrounding the elections.
There are strong indications that the rise of fake news, online propaganda and misinformation is not going to stop over night. The prediction is that this challenge is growing in size and complexity, fuelled not only by humans but by online bots (computer programmes that perform automatic tasks). It is a race against time to develop strategies both at the technology and human systems level, coupled with greater media and information literacy education that can help stem its flow. The SMTC is an approach that helps to safeguard election processes in this challenging context.

Kwami Ahiabenu II is the executive director of the independent media organisation Penplusbytes. He lives in Accra, Ghana.
info@penplusbytes.org

Links
Penplusbytes:
http://penplusbytes.org/
African Elections Project
http://www.africanelections.org/