Participation
Immigrants living with forged identity documents in South Africa
In South Africa, the government intensified efforts to crack down on illegal immigration by tracking online activity on social media. However, the use of fake identity documents by many of these immigrants has created a dilemma for all.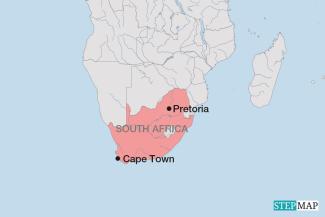 Stepmap
South Africa has the highest number of immigrants among all African countries. As of July 2020, the country was reported to be hosting 2.9 million people. This is about 4.8 % of the country's 60 million population.
A significant number of South Africa's immigrants live there illegally. They are often undocumented or possess forged identity documents where they take on the identities of nationals. A fake identity document can be bought on the black market.
Immigrants are forced to obtain fake identification documents for many reasons. South Africa is popular for its high incidence of xenophobia. Many indigenous South Africans detest immigrants and blame them for taking up jobs and opportunities they would ordinarily occupy. To mask their identities, immigrants obtain these fake documents.
"A legal identity, even when faked, makes an immigrant obtain jobs and get some level of protection from xenophobic violence," Themba Naledi, a trade-union coordinator for immigrants with the National Union of Mine Workers South Africa, says.
The business of creating and selling fake identity documents is very lucrative in the country. It is often propelled by corrupt immigration officers who work with organised crime syndicates.
Life for those using fake identity documents is not entirely comfortable. Often, immigrants, just like other citizens, actively use social media whereas Facebook is one of the most popular channels being used in the country. For immigrants with fake identity documents use of Facebook is of great risk. The government security agencies are tracking social-media accounts to flush out illegal immigrants in the country, because many users reveal their actual identity online.
One such immigrant is Jonah. He uses his real name on Facebook, but his national identity document bears the name "Themba". He explains the dilemma he faced. "As an immigrant, buying a fake ID or passport or driver's license to survive in South Africa was easy if you had money. Then Facebook arrived here in the 2010s. I couldn't create a Facebook profile with the name on my fake ID and my real picture for obvious reasons," he says.
Jonah adds: "On the other hand, I couldn't create a Facebook profile with my real name (Jonah) and real picture otherwise immigration authorities in South Africa would stumble upon the contradiction online, check their databases and summon me."
However, as Facebook continues to become popular in the country, it has become quite hectic for government security agencies to keep track of the large number of users. Realising this, immigrants can now use their actual identities on these social-media sites with less worries.
Social-media networks are indispensable today as most networking for business and leisure takes place online. Many immigrants use social media to communicate with their family and friends.
Nyasha Bhobo is a freelance writer based in South Africa.
nyashabhobo@gmail.com