Sustainable finance
International standards are important
The transition to a sustainable economy requires a financial sector that supports the Sustainable Development Goals (SDGs) and the Paris Climate Agreement. Standards for when a financial product can be considered sustainable must be clearly defined and internationally agreed.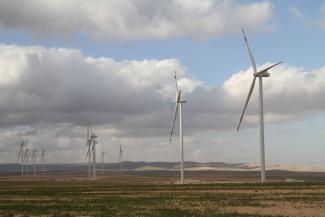 kd
Sustainable finance deals first and foremost with environmental projects, including those that serve adaptation to climate change. Secondly, sustainable finance supports projects related to social goals such as reducing inequality. Thirdly, it supports better governance, for example in public­­ ­institutions or private companies. In addition to these ESG (environmental, social and governance) goals, financial sustainability is another important part of sustainable finance.
Standards and criteria are needed to determine when a financial instrument is sound and sustainable. Such standards improve transparency and strengthen investors' trust. The criteria enable investors to differentiate between "green" and "non-green" activities and distinguish related financial instruments.
In addition, financial institutions themselves need standards for "green" financial instruments for purposes of internal budgeting, accounting, performance measurement and environmental risk management. Of course, standards also enable policy makers to design tax breaks and subsidies in ways to ensure that financial instruments truly support sustainable development.
On the other hand, if the criteria defining "green" financial instruments are too strict, they can impede development of products such as green bonds (Berensmann et al., 2017).
In order to reap the full benefits of standards, different standards should be coordinated at an international level. It does not make sense for each country using its own definition of what a "green bond" is.
Currently, the most widely used international standard for green bonds are the voluntary Green Bond Principles. They were issued by the International Capital Market Association, a self-regulatory organisation for participants in the capital markets. Most other green bond standards are based on these principles.
The Green Bond Principles do not suffice, however. They are not specific enough, and they are only partly harmonised with several national, regional and international standards for green bonds. These include the ASEAN Green Bond Standard, the EU Green Bond Standard and the standards of the Climate Bond Initiative.
In addition to differing standards for green bonds, there are also different standards for assessing the "green" activities supported by those bonds. To prevent "greenwashing" – false claims that an activity or product is environment-friendly – objective external evaluations should determine whether projects are legitimately "green".

EU Action Plan
The European Union has addressed these problems. In 2018, the European Commission (EC) drew up an Action Plan for financing sustainable growth, including a strategy for a sustainable financial system (EC 2018). To create standards and labelling for environment-friendly financial products, the EC established a technical expert group (TEG) for sustainable finance. The focus was on the following tasks:
creation of a "classification system (taxonomy) for environmentally-sustainable economic activities",
development of an "EU Green Bond standard" linked to this classification system,
"guidelines on corporate climate-related information reporting" and
"EU climate benchmarks and benchmarks' ESG disclosures".
In March 2020, the EU presented a classification system for environmentally sustainable economic activities, which will become part of EU legislation. The classification system sets criteria for environmentally sustainable economic activities. It aims to help identify existing "green" activities and improve access to finance for these activities. This, in turn, could help to extend low-carbon sectors and to decarbonise high-carbon ones (EC, 2020a).
It is commendable that the EU has established a market-wide, legally binding classification system for "green" activities and related financial instruments. A downside, however, is that these taxonomies are not internationally agreed beyond the EU.
It is obviously difficult to enforce a uniform classification system worldwide. After all, such systems do not take into account national differences in economic and technological development. On the other hand, if different classification systems are to be used for different countries, then those differences must be transparent. The EU has therefore convened an international discussion platform to coordinate development of appropriate classification systems for "green" activities and related financial instruments in different parts of the world.

Guidelines for inspectors
To date, there is no binding international standard to guide the work of those who review "green" financial instruments. To close that gap, the EU has proposed a bond-accreditation system. It would be used by external auditors of green bonds (EC, 2019a). Ideally, this standard could also set a benchmark for green bonds on international financial markets.
It is not yet clear whether this initiative will succeed. To begin with, the bond-accreditation scheme would be limited to the EU. It would make sense to create an independent international institution to ensure international harmonisation of green bond certification standards. Its members would not only be drawn from regulators, but also from the most relevant private-sector companies and public-sector institutions that are active in financial markets.
The EU's Action Plan is an important milestone to help mobilise private capital for sustainable economic activities. Given the interdependence of international financial markets, these guidelines need to be coordinated with those of other regional and national authorities.

References
Berensmann, K., and Lindenberg, N., 2017: Green finance across the universe. ­In: Boubaker, S., et al. (eds.): Ethics, ESG and sustainable prosperity. World Scientific Publishing.
EC, 2020a: Taxonomy: Final report on the Technical Expert Group (TEG) on sustainable finance, March.
EC, 2019a: Report on the EU Green Bond Standard. Financing a sustainable European economy. Technical Expert Group (TEG) Report, June.
EC, 2019b: The European Green Deal. Brussels, 11.12.2019.
EC, 2018: Action Plan: Financing sustainable growth. Brussels, 8.3.2020.

Kathrin Berensmann is senior researcher and project manager at the German Development Institute (DIE, Deutsches Institut für Entwicklungspolitik).
kathrin.berensmann@die-gdi.de