Democracy
Colombians have voted for change
In the elections of 19 June, Colombians for the first time ever elected a left-wing candidate. Gustavo Petro was indeed a guerrillero 30 years ago. His vice-president will be Francia Márquez, an Afro-descendant environmental activist. The voters' choice shows their discontent with inequality and poverty.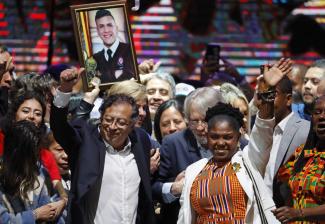 picture alliance / EPA/| Mauricio Duenas Castaneda
While media have portrayed the two new leaders as revolutionaries, their recent track-record shows they are reformers. Petro has been a prominent and fairly mainstream person in Colombian politics for decades. He has served as senator and mayor of Bogotá, the capital city, pursuing change by constitutional, not revolutionary means.
The rise of Márquez to a top-level state office wields even more symbolic power. The former maid until recently depended on social subsidies. She has faced several death threats since becoming an environmental and social activist.  She represents the communities that have been left behind by Colombia's current development model. Almost 40 % of the people live in poverty.
Moreover, Afro-Colombians and indigenous communities remain marginalised in society. Pejorative terms like "negro", "indio" and "campesino" are still in use. Colombia has not reckoned with the blood-stained heritage of European colonisation. It thus matters that the new vice-president will also lead a new ministry with the mission of tackling inequality.
Márquez has been a social leader and an environmental defender since the mid- 1990s. She has consistently demanded that state agencies respect the 1991 constitution, recognising people's rights and hearing all voices. Her calls for deeper democracy have been misrepresented as being "dangerously revolutionary". That is not uncommon in view of the country's history of armed violence.
State absence in many areas
Indeed, millions of Colombians, who live in remote areas where the state has been largely absent, remain caught in the crossfire of various armed groups. A peace agreement was achieved the past decade, but it did not find approval in the 2016 plebiscite, not least due to fake-news propaganda. In the past four years, President Iván Duque did not support the agreements and opposed important institutions such as the truth commission (see my contribution in 2019 on www.dandc.eu). Since 2019, however, there have been mass protests against Duque, and peace was a recurring demand. Unsurprisingly, Afro-descendants, indigenous communities and victims of violence voted massively for Petro and Márquez.
Colombia's new leaders will have to rise to huge challenges. Inequality and racism are closely linked and have deep roots in society. Petro and Márquez represent the hope for change.
A programme and a narrative  
The new government must thus deepen democracy and bridge social divides. This  will prove very difficult. Some political actors continue to cooperate with illegal armed groups. Activists continue to be assassinated. In many places, including even provincial capitals, warlords hold sway. About one third of the age-group 15 to 28 are currently neither working nor studying. The pandemic and its shocks have disrupted livelihoods.
The international scenario remains worrisome. There is the risk of a global recession. It remains to be seen to what extent international finance institutions such as the International Monetary Fund and the World Bank, foreign governments and private-sector investors will fall for the propaganda of Colombia's new leaders being "hard left". That US President Joe Biden called Petro to congratulate is seen as promising.  
Like its left-of-centre counterparts in Chile, Bolivia and Peru, Colombia's new government will need a political programme to reduce inequality and a national narrative to promote cohesion. If the new leaders succeed, they will prove encouraging in a world struggling with greed, inequality, and violence. Humanity needs examples of how governments can make their citizens feel that they own their country and are empowered to shape its fate. If people are reduced to being mere tenants to greedy landlords, however, we must expect democracy to erode further, with authoritarian narratives taking hold on both the right and the left.

Fabio Andrés Díaz Pabón is a researcher at the African Centre of Excellence for Inequality Research (ACEIR) of the University of Cape Town and a research associate at Rhodes University in South Africa.
fabioandres.diazpabon@uct.ac.za