Civil war
Only walls left
Recently, the Syrian army took back control over Eastern Ghouta near Damascus. After the retreat of the armed opposition groups, however, came the time of the robbers: militias looted the houses of displaced persons. They transported tons of stolen goods to nearby villages in order to sell them at low prices.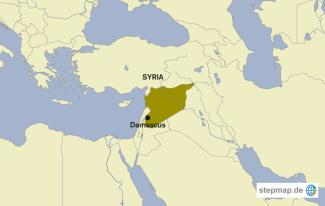 stepmap.de
Looting is a typical phenomenon of war. In Syria, it started in the city of Homs after civilians fled their homes: a new market was opened, offering only stolen goods.
During the seven years of war, people in all areas affected by military action suffered this kind of mass robbery. The crimes were committed by individual soldiers as well as by armed rebel groups. Videos uploaded on social-media networks by civil-rights activists and photos by the news agency AFP show militias stealing furniture from private houses and taking out goods from stores. They also robbed cars in the town.
In 2011, 28-year-old Noor and her family fled Harasta, a rural suburb of Damascus, leaving everything behind. In 2018, after the battle of Ghouta, Noor managed to return to her house. It was not only damaged, but also empty: after the militia groups took over the city, they stole all of Noor's belongings. They only left her books behind.
"I used to see my house as a place full of love and passion," Noor says. "Now there is nothing left but books," she adds. "It is good that the robbers were not interested in education. But I lost everything else."
Jad often witnessed negotiations between sellers and customers in the stolen-goods market in Kashkol, but he doesn't approve of shopping there. "I can't imagine how it is possible for Syrians to buy stolen items that they know for sure that their fellow Syrians have shed blood, sweat and tears over," he says.
On the other hand, internally displaced persons often can't afford any other place to buy goods for their essential needs. Some of them are even searching for their own belongings at these markets, hoping to retrieve some of their lost items. Reem is one of them: the young woman keeps searching to find her stolen furniture. Two weeks ago, her aunt managed to buy her own living room settee back from one of the shops in Kashkol.
Mass robbery starts with gathering goods from abandoned houses which are easy to carry and of high value, like jewellery and money. Next, the robbers take furniture and electronics, and at last they start to dismantle the house itself, taking out windows, doors, water pipes, the electricity system and even flagstones. When the original owner comes back, there are only walls left.

Nawar Almir Ali is a journalist and lives in Damascus, Syria.
nawaralmir@gmail.com