Sustainable Development Goals
Missing the target
Malawi is on course to miss its targets for 2030 under the UN Sustainable Development Goals (SDGs).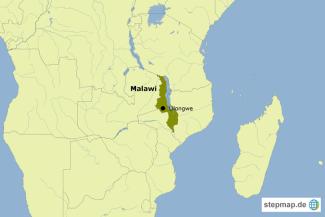 stepmap.de
The country's outlook for progress is weak even in the immediate next few years. It is falling short of the development goals outlined by its president, Lazarus Chakwera, during his campaign last year. He had pledged to create 1 million jobs, fight corruption, improve roads, increase food production and provide access to safe and affordable drinking water.
In a televised address earlier this year, however, President Chakwera said those goals – which track goals of the SDGs – are increasingly out of reach. Statistics bear out this pessimistic forecast. For example, SDG 6 aims for universal access to safe and affordable drinking water. However, only about five percent of Malawians use water from protected wells, according to the country's most recent census.
Similarly, SDG 1 sets a goal of ending extreme poverty by 2030. Yet 51 % of the population is poor and 20 % extremely poor, according to the National Statistics Office.
According to President Chakwera, the main reason for slow progress is corruption. He accused the previous administration of stealing 1.3 trillion Malawian Kwacha (€ 1.4 billion).
The cost of fighting the Covid-19 pandemic has added to that burden. President Chakwera has prioritised this effort, putting other projects on hold.
With Malawi's SDG progress lagging, the UN's Joint SDG Fund recently selected Malawi and three other countries for a financial boost. In March it allocated $ 41 million to the four countries to accelerate their SDG programmes. The grant expands the Joint SDG Fund's investments to date to $ 223 million across 112 countries.
The allocation to Malawi focuses on boosting financing for small and mid-sized enterprises (SMEs). The funding "will reduce poverty, hunger and inequality by creating jobs and supporting small businesses in the country's severely under-capitalised agricultural sector," the UN says.
To do this, the UN aims to attract private investors by offering them financial guarantees. The UN says the $ 41 million will "leverage an estimated $ 4.7 billion in additional finance."
The approach is "a joint effort in the public and private sector, where corporates play an active role, beyond the provision of cash," says Société Générale executive Marie-Laure Bourat.
This approach could prove to be very helpful to Malawi's agricultural SMEs, according to Bright Sibale, a consultant and researcher in rural and social development. "Any project that supports SMEs will promote growth," he says. "But the UN should ensure that overall conditions are favourable for SMEs and that the project includes skills development for SMEs."
He adds that the country's underlying corruption problem must also be addressed. "As a country, we have to be serious about accessing funds effectively to achieve the SDGs," he says. "Corruption must be dealt with if this country is to move forward."

Raphael Mweninguwe is a freelance journalist based in Malawi.
raphael.mweninguwe@hotmail.com