Scholarship
Equal partnership
Higher education plays a pivotal role in development, so the capacities of research institutions in low-income countries must be enhanced. The Volkswagen Foundation has found a promising way to promote the careers of junior scholars in Africa.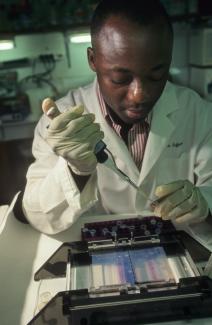 Mark Edwards/Lineair
Conducting research in international cooperation has many advantages but is not always easy. Among others, challenges for researchers include the distance between the institutions involved, language barriers and socio-cultural differences.
North-south partnerships can be especially difficult. For several reasons, they are dominated by scholars from the so-called Western world. The reasons include unequal access to resources and funding, unequal capacities and unequal institutional support. Though many researchers would like to collaborate in equal partnerships, they do not always succeed in doing so. Frequently, imbalances are rooted in the set-up of funding programmes.
In recent years, development agencies have realised that research is a key element for development in low-income countries (LICs). One of those institutions is Germany's Federal Ministry for Economic Cooperation and Development. It is well understood, moreover, that strong research bases can only be built in developing countries if the scientists concerned are empowered to act as equal partners of their colleagues from the developed countries.
The good intentions are laudable, but it is hard to make them come true. There are two main hurdles:
The working conditions in LICs are tough, and
the (mostly northern) funding agencies are not aware of these conditions,
so their procedures, modalities and schemes do not fit the requirements of research in developing countries.
Nonetheless, good partnerships are possible. The Volkswagen Foundation (VolkswagenStiftung) has done some groundbreaking work in this regard. Based on its experience, we argue that it makes sense to set up long-term career development schemes for postdoctoral researchers in Africa. Such schemes are a promising option to stem brain drain from Africa and develop capacities at sub-Saharan research institutions.
The Volkswagen Foundation has been running a funding initiative called "Knowledge for Tomorrow – Cooperative Research Projects in Sub-Saharan Africa" since 2003. In 2010, the OECD declared it a best-practice model because of its long-term perspective (OECD 2011). The Foundation has set up six thematic postdoc programmes for African junior researchers. For instance, it supports the careers of junior African scholars that specialise in natural-resource topics in three steps, for up to eight years. First, they complete their PhDs, then they become postdoctoral researchers and, finally, they work as leaders of research groups.
In the first step, the Foundation supports cooperative research projects between German and African researchers which offer African junior scholars the possibility to complete a PhD. In the second and third steps, these junior researchers may apply for personal grants with project proposals of their own. The review process is highly selective and involves a conference, various presentations and interviews which expose the fellows to the feedback of internationally recognised experts.
An important component of the programme is that most of the African fellows cooperate continuously with German postdocs on their research. The special twist is that the African scholars' grants provide the funds to their German counterparts. Moreover, all African fellows have the option of choosing two senior scientists from Europe and Africa as their mentors. The programme offers ample opportunities for international networking with scholars who are working on related topics.
The programme does not only fund the projects, it also promotes the development of soft skills such as scientific writing, lecturing or management. Workshops organised by the Volkswagen Foundation strengthen capacities in proposal writing, application for funding and preparation of publications. The programme is coordinated by a senior researcher at Leibniz Universität Hannover (LUH), which acts as a link between the Volkswagen Foundation and the junior fellows. The university is also involved in planning and organising the programme workshops.
So far, 10 junior scholars from seven African countries have taken part in the programme on natural resources. Systematic evaluation of their experience has shown several things:
The programme promotes ownership and self-confidence. The fellows run their individual projects themselves, from design to implementation. They have to apply for funding, and the selection process is tough. Successful applicants are in control of their grants. They choose and invite mentors. They fund their German counterpart, who must ensure that they acquire the skills and knowledge they need. Open dialogue between scholars, mentors and the Volkswagen Foundation creates mutual trust.
All fellows surveyed favoured scientific careers in their home countries. They want to become authorities in their field by doing internationally recognised research. At the same time, they want to develop their countries' capacities and contribute to improving livelihoods. Their long-term goals are to obtain permanent positions at a university in their country and do work that serves their nations' development.
The link to the German counterpart helps African fellows to keep in touch with their German partner institutions. Most likely, these relationships will last for a long time.
In the past decades, many African governments had to cut their budgets for tertiary education. Accordingly, the continent lacks funding for research. The Volkswagen Foundation is aware of this challenge and has designed its programme accordingly. It is contributing to capacity development at three different levels:
It enhances the individual capacity of the participants.
It reaches out to master and PhD students in Africa as well as to postdocs.
The results of the individual projects contribute to national capacity building by providing new insights to local people.
An evaluation of the programme showed, however, that there is room for improvement. According to the 10 fellows surveyed, the mentors should become more actively involved in the fellows' projects. The fellows also suggested that the mentors should send annual progress reports to the Volkswagen Foundation. Moreover, they would like to see their mentors visiting their universities and participating in relevant workshops and conferences.
The fellows also felt that their home institutions should give them stronger administrative and technical support. They complained about high teaching loads and difficulties concerning the transfer and release of funds. In the future, the fellows said, the programme's network should be extended. For this purpose, they were in favour of starting exchange programmes, summer schools and an alumni scheme. An important step towards practical application of project insights would be to establish contacts to national governments. The Volkswagen Foundation and the mentors could assist the fellows more efficiently in doing so.
Five conclusions follow from the experience of the Volkswagen Foundation:
The fellowship programme for sub-Saharan postdocs is a promising model for supporting the careers of junior researchers in Africa.
It supports African scholars' ownership by empowering them to work with their German partners at eye-level.
It is not enough to provide funds to African junior researchers. Soft-skills training and mentorship matter too.
Innovative approaches are needed to facilitate cooperation of researchers from advanced and developing countries on an equal footing. Funding agencies and international research partners should reconsider their role when engaging in north-south partnerships.
African researchers are interested in academic careers in Africa and want to promote their nations' development.
Svenja Czapek is a researcher at the Institute für Biologische Produktionssysteme at Leibniz Universität Hannover and was involved in the management of "Knowledge for Tomorrow – Cooperative Research Projects in Sub-Saharan Africa", Institut für Biologische Produktionssysteme.
Detlef Hanne used to work for the Volkswagen Foundation and  joined KfW Bankengruppe over a year ago.
Cora Ziegenbalg is programme director of the funding initiative "Knowledge for Tomorrow – Cooperative Research Projects in Sub-Saharan Africa" at the Volkswagen Foundation.