Global affairs
How Biden's promise of America being back might come true
Soon after taking office, US President Joe Biden declared: "America is back." The message was that, after the volatile unreliability of his predecessor Donald Trump, his nation would contribute constructively to international alliances, wholeheartedly endorse democracy and support a rule-based international order. The message was welcome, but it was not entirely convincing.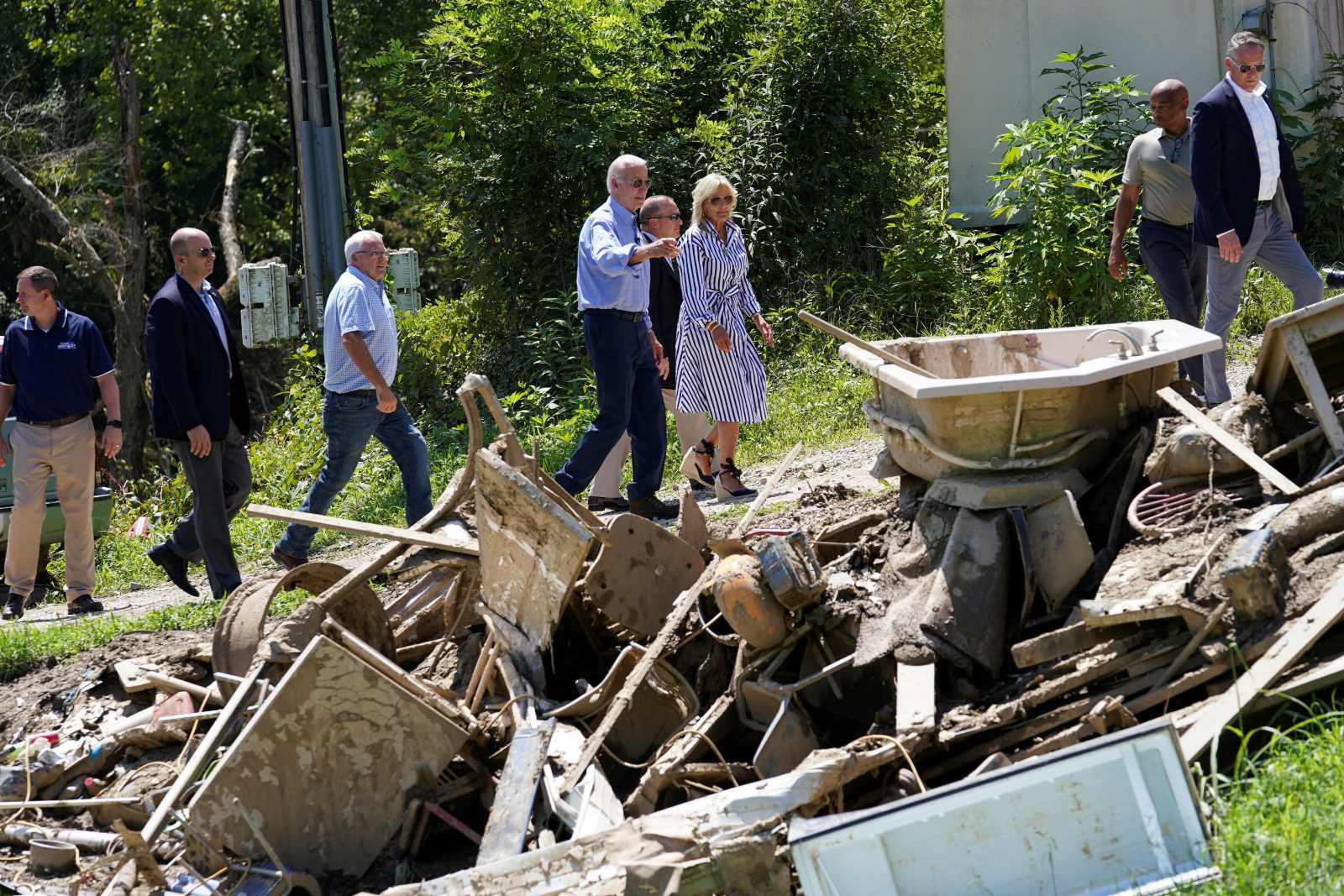 picture-alliance/REUTERS/Kevin Lamarque
Yes, Biden fast re-joined the Paris agreement on climate change, but his own climate agenda was not passed by Congress for many months. Moreover, the president shied away from clearly disowning his predecessor and his supporters in spite of their obviously anti-democratic behaviour. Authoritarian tendencies, after all, were evident not only, but especially in regard to the insurrection of 6 January 2021. A policymaker who speaks out against authoritarian tendencies abroad but stays silent about similar developments at home lacks full credibility.
The past few weeks, things have changed for the better. Congress has passed an ambitious climate agenda, which should, by the end of the decade, cut the USA's greenhouse-gas emissions to 60 % of the level witnessed in 2005. Biden had aspired to achieve 50 %, which would have been better, but his diplomats will not arrive empty-handed at the climate summit in Egypt in November.
Moreover, Biden has started to ambiguously spell out that Trump and the Republicans who endorse him are a threat to democracy. Opinion polls show that Biden's party is likely to expand its narrow Senate majority and may even maintain its majority in the House of Representatives. Should both happen, Democrats would be in a position to expand climate action as well as pass legislation to make elections safer and fairer.
These things are of great global and developmental relevance. The climate crisis is escalating, and US action is indispensable. Around the world, extreme-weather disasters are increasing (see our focus section in D+C/E+Z Digital Monthly 2022/06). The USA is affected too.
Negotiations at the climate summit in Sharm el-Sheikh this year will prove difficult for several reasons. The Ukraine war is resulting in enormous climate-relevant emissions, which the international public so far has largely neglected. In the short term, moreover, interest in fossil fuels has increased. Inflation is affecting many nations, partly as a consequence of the war and partly due to supply-chain disruptions in the Covid-19 pandemic. Disputes regarding what funding high-income nations owe less fortunate ones will be high on the agenda, and it does not help that the former have not been keeping their promises so far. On the upside, the war has also boosted policymakers' long-term interest in renewables, while the number of those who deny climate change is growing smaller in view of the indisputable damage.
The climate negotiations will be tough. The outlook would be very bleak if it were clear from the start that hardly anything can be expected from the USA.
Biden's invigorated stance towards democracy at home is helpful too. It will prove even more so if his party fares well in the midterm elections in November. Unfortunately, democracies are driven by short-term thinking and very few democracies have been responding appropriately to the mounting environmental challenges since the Earth Summit in Rio in 1992. However, despotic leaders tend to perform even worse. They focus entirely on the survival of their regime and, provided they can rely on strong means of repression, need not worry much about the common good. Russia, for example, has never been a leader in regard to climate issues. Because of Moscow's war in Ukraine, initiatives to protect vital, but endangered boreal forests close to the Arctic have stalled. China, which has played a constructive role in the past, is increasingly emphasising narrow-minded nationalism.
Both in regard to climate protection and democracy promotion, Biden has begun to deliver. More must happen. If others are to ratchet up their environmental policies, the USA will be expected to do so too. The US legal system, moreover, must hold Trump accountable. Otherwise, the expectation of impunity will increase in many countries where right-wing populists are a force to be reckoned with.

Hans Dembowski is editor in chief of D+C Development and Cooperation / E+Z Entwicklung und Zusammenarbeit.
euz.editor@dandc.eu