International civil society
Facilitating more than leading
ActionAid is the first big international non-governmental organisation (INGO) that moved its headquarters from the global north to the global south. In this essay, the chief executive of ActionAid International elaborates why that step was necessary and how the global organisation is changing.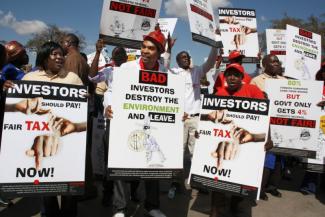 ActionAid
There has been much discussion lately in development and human-rights circles on decentralisation and internationalisation – the process by which international NGOs based in the global north increase their presence and decision-making in countries in the global south.
For ActionAid these are not new ideas to be realised sometime in the distant future. It is how we have been working for many years.
ActionAid International moved its headquarters from London to Johannesburg in January 2004. It remains the only international development organisation headquartered in Africa, although others are set to follow.
Our move reflected our core values and ways of working. It was a logical step in a process which had begun many years before and still continues.
ActionAid was founded in the UK as a charity focussed on supporting children in 1972. It has since become an international organisation working today with 15 million people in 45 countries with the goal of ending poverty and injustice. We recognised that if we were serious about eradicating poverty in the developing world all our members – not just the richer ones – needed to be involved in our decision-making.
ActionAid is not a centralised, top-down structure; it is a global federation that is governed and run by equal members across the world. All our member organisations, wherever they are based, have the same voting power and voice as their European, North American and Australian peers that have traditionally provided most of the funding.

Emphasising rights
ActionAid believes that the fight to end poverty and inequality must start at a grassroots level. The people and communities affected must be actively involved. When people living in poverty know their rights and can act on this knowledge, long-term change becomes more likely. Their concerns and voices are at the core of everything we do and drive our plans to end poverty.
By linking local and national action into regional and international efforts, we can create a powerful movement demanding change. Our role is very much as a catalyst, helping to make the connection between local civil society and social movements and like-minded groups across the planet, and working with them in international fora. For example, ActionAid's Tax Power campaign extends from communities in Zambia demanding their government to end tax incentives to multinational companies and to spend the money on health, education and other vital public services to lobbying the G20 to introduce global tax reform.
Internationalisation has helped in­crease ActionAid's accountability to the people that we work with as well as our legitimacy within countries. Working closely with social movements and national partners, we are helping to hold governments and other decision-makers to account.

Sharing power means more power
Internationalisation requires a shift of power that not all organisations may be comfortable with. The key is recognising that sharing power doesn't mean having less power. By working together as a global partnership we have a bigger impact.
For ActionAid, internationalisation has not been a one-off action or an end in itself. We have continued to review the process in order to improve our ways of working and make us more effective.
Last year we restructured our global operations and increased the role of national-level members within the global organisation. Some of the functions previously provided by the ActionAid International Secretariat have been delegated to national-level ActionAid organisations. They are now using their experience and expertise to lead the federation on specific issues. For example, ActionAid Bangladesh is now leading our work on climate change and resilience along with ActionAid USA, while ActionAid Liberia now leads our global campaign for safer cities for women.
ActionAid International's role is now less about leading and more about facilitating greater cross-country and collaborative activities. That includes increased South-South cooperation as well as support for activities at an international level such as the upcoming UN climate summit to maximise impact.
One of the areas we are focusing on is support for fundraising in middle-income countries and emerging economies such as India, Brazil or Nigeria. The idea is to help them raise funds for use at home and abroad. This is not just about generating more money – although like all charities we must find new sources of funding. It also helps to ensure that the national ActionAid has more influence on its government as citizens contribute to its resources and support the push for change.
Fundraising is not the only area in which we are witnessing a change in the traditional divide between north and south. Across the globe, the concentration of wealth and power in the hands of the few is creating a widening gap between the richest and the rest of society. The combined wealth of the richest one percent is more than the combined wealth of the remaining 99 %, and the majority of the world's poor now live in middle-income countries. Poverty and inequali­ty are related, and they are increasingly problems within countries – not just between countries.
Challenging the power of the few and ending inequality requires greater strategic cooperation between developmental NGOs, environmental groups, trade unions and human-rights organisations. To this end, ActionAid signed a joint statement early this year with the Association of Women in Development, Oxfam, Greenpeace and Civicus agreeing to increase cooperation and action to reduce inequality and eradicate poverty. The statement was later supported by the International Trade Unions Confederation.
We will continue to seek new alliances and partnerships to achieve our common goals and create the future we want for all. Together we are stronger. Together we can achieve change.

Adriano Campolina is the chief executive of ActionAid International.
http://www.actionaid.org

Link:
Joint statement by ActionAid, Greenpeace, Civicus, Awid, Oxfam:
http://www.actionaid.org/2015/03/securing-just-and-sustainable-world-means-challenging-power-1