Gender
Empowering women for economic growth
22 years have passed since the 4th World Conference on Women adopted a far-reaching roadmap for achieving gender equality and women's empowerment. In Togo, women still face many obstacles in their struggle for better living conditions. Gender disparities significantly hinder their empowerment.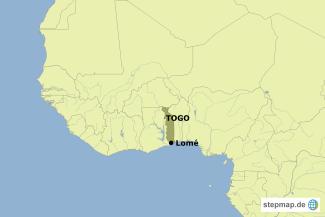 stepmap.de
In Togo, domestic responsibilities such as the care of children, elderly and sick family members prevent many women from seeking a job or starting a business. Moreover, the World Bank's country report revealed last year that women lack economic opportunities and are underrepresented in high-level positions. Only very few public and private enterprises are run by women. 
The impacts affect society in general. According to the International Labour Organization (ILO), an increase in female labour-force participation results in faster economic growth. It would therefore make sense to reduce the gap between women's and men's labour-force participation. 
The labour code of Togo establishes equal pay for equal work regardless of gender. However, this law is only observed in the formal work sector. Many women are underpaid compared with their male counterparts, particularly in the informal sector. 
"This law is only words," comments women's-rights activist Berthe Adjoavi Tatey. She adds that women tend to have worse access to financial services. "Their empowerment is likely to suffer at the hands of narrow-minded policymakers and inadequate business environment," Adjoavi Tatey concludes.
Women make essential contributions to farms across the country. In 2014, Benedicte Sama, a female farmer from the Kara northern region, was awarded the price for best farmer of the country. She says, however, that her success was exceptional – it depended on subsidies she got in the context of the West Africa Agricultural Productivity Programme (WAAPP). The International Development Association (IDA), a World Bank subsidiary, funds two thirds of the programme, and the member countries of ECOWAS (Economic Community of West African States) contribute the other third. All too often, women are excluded from governmental support and therefore cannot tap their full potential the way Benedicte Sama did.  
According to economist Kako Nubukpo, the government should "develop and implement laws and policies" that really promote women so that they can take part in economic life. Joseph Gada, an economic analyst agrees: "Gender disparities in access to land and credit affect the ability of female farmers and entrepreneurs to invest, operate to scale and benefit from new economic opportunities." 
Togolese journalist Sophie Ekue quips that "women are the belt that holds men's trousers." And it is high time that this changes – for the benefit of the whole society.

Ibrahim Oredola Falola is a journalist and lives in Lomé, Togo.
ibfall2007@yahoo.co.uk

Link
West Africa Agricultural Productivity Programme (WAAPP):
http://www.waapp-ppaao.org/en