Fish farms
Catch of the day
Confronted by depleted fish stocks in over-fished lakes and streams, Zambia's government is promoting a long-term solution: encouraging fish farming to increase the supply.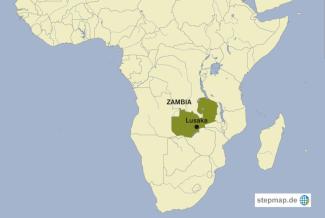 stepmap.de
Fish farms consist of tanks or ponds in which fish are bred in large numbers, usually receiving a diet of fortified fish feed. In Zambia, the main aim is to sell the fish as food once they have grown to full size. Some farmed fish are also released into the wild to supplement depleted stocks.
Fish farms can help to close the gap between demand for and supply of fish, according to the Zambia Aquaculture Enterprise Development Project (ZAEDP), a government initiative funded by the African Development Bank. It says demand for fish in Zambia exceeds 180,000 metric tonnes per year, whereas the industry can supply only 85,000 metric tonnes per year due to depleted stocks.
By helping to close the supply gap, a thriving aquaculture industry would reduce the pressure of over-fishing on the country's natural lakes and streams, ZAEDP says. It would also displace imports with domestic production and create local jobs, both in fish farming and in support services such as cold storage and refrigerated transport, ZAEDP adds.
According to The Fish Site, an aquaculture industry web portal, as of 2018 Zambia was the sixth largest producer of farmed fish in Africa. "Zambia is an ideal candidate for aquaculture expansion, and the industry is growing fast," writes author Megan Howell in a report titled "Feed and seed: Addressing challenges in Zambian aquaculture". "The country has numerous natural water resources that can support cage production."
Fish farming can be environmentally unhealthy, depending on how it is done. For example, accumulation of waste under fish farm cages and changes in the quality of sediment and water can hurt the environment. Nonetheless, Zambia's government believes the advantages outweigh the risks, and recently allocated the equivalent of $ 6 million to the Aquaculture Youth Empowerment Initiative, a fund aimed at attracting young people to the fish farming industry.
Funding also goes to training fishers in the business aspects of fish farming. Nawa Sindila, a fisher from Lusaka Province, started attending monthly workshops in 2018 on how to run a fish farm. Using land he owns near a stream, Sindila dug two ponds, each 25 by 35 meters and each capable of holding 18,000 fish. "Using what I have learned, I will soon be able to supply bream to chain stores and live my dream of farming fish," Sindila says.
Equally determined is Samson Njobvu, a fish farmer in north-western Zambia. After ten years as a heavy equipment operator at the Kansanshi copper mine, Njobvu switched to fish farming on a commercial scale in 2017.
"I started on a small scale while still working at the mine," he says. "With the government's continued emphasis on fish farming, I realised that the supply shortfall presents a business opportunity for fish farmers. I decided that even I can do it."
The government wants to see more of this. "We want all the districts in the country to have hatcheries by 2022, so that we eliminate the current fish deficit," Inonge Wina, vice president of Zambia, said in an address to the Ministry of Fisheries and Livestock.

Derrick Silimina is a freelance journalist based in Lusaka. He focuses on Zambian agriculture and sustainability issues.
derricksilimina@gmail.com