Financial inclusion
Taking it to the bank
Financial products such as bank accounts and bank loans help people to manage their money and invest in assets such as houses and education.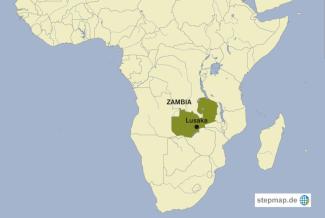 stepmap.de
When households have secure bank accounts and reliable channels for making payments, they are better able to make large purchases and to save money for the future. As a result, when most people in a community use financial products, businesses are more likely to invest in those communities.

That is why many developing countries, including Zambia, aim for universal access to basic financial products. But they have a long way to go to get there. More than 40 % of Zambian adults have no access to quality financial products, and about 60 % of adults who have such access do not use it, according to Zambia's National Financial Inclusion Strategy paper for 2017-2022. In vast areas of Zambia, especially remote rural regions, people still rely on cash or barter, or use unregulated and unsecured channels, to make payments and store savings.
The main reasons for this poor showing are lack of funds, high bank fees, time-consuming travel to a bank branch and lack of trust in the financial sector, according to a 2017 World Bank study titled "Enhancing Financial Capability and Inclusion in Zambia".
Slowly, however, this is beginning to change. Atlas Mara Bank Zambia, a large retail bank with headquarters in the capital Lusaka, recently opened two branches in the remote North-Western Province, one in Mwinilunga and the other in Zambezi. "We are bringing financial services to the Zambezi District after an absence of over 30 years," says James Koni, the bank's managing director.
Customers responded enthusiastically. "Having a bank here will enable me to save and be more financially secure," says Clement Mufwaya, a pineapple farmer from Mwinilunga District. "Also, by opening a bank account, I can get a loan and expand my business."
The government is asking other banks to take similar steps. It is also asking banks to provide electronic access to customers in remote locations.
''Digitalisation is already the future of financial services," says Mukuli Chikuba, permanent secretary of the Ministry of Finance. "Adopting advanced information technology and online business models will help financial service companies operate on a bigger scale, cut operating costs and better understand the needs of customers."
Expanding to rural areas and offering online services is costly, however. Most likely, banks will need to merge with or acquire other banks to become big enough to invest in information technology and to reach out to unbanked populations.
Some merger activity is already in evidence. For example, Atlas Mara acquired Finance Bank Zambia in 2016 and subsequently merged the acquired bank with an existing subsidiary. The combined institution has a network of 65 branches, a roster of 23 external agencies and a collection of 176 automated teller machines in ten Zambian provinces.
The bank's strategy is to offer a secure digital network that protects customer data from hackers and ensures that online financial transactions are safe from fraud and theft. "At the centre of our offer is our first-class digital platform," says Koni. "This shows our commitment to support the government's vision for financial inclusion for all Zambians."

Derrick Silimina is a freelance journalist based in Lusaka. He focuses on Zambian agriculture and sustainability issues.
derricksilimina@gmail.com