Mobile money
Financial inclusion by phone
The use of mobile money – funds transferred over digital platforms accessed by mobile phones – is taking off in Zambia.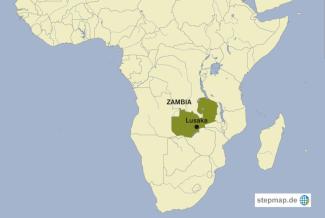 stepmap.de
According to the Bank of Zambia, the country's central bank, the number of mobile money users on the country's network platforms grew to over 8.6 million in 2020, compared to 4.85 million in 2019. That represents a year-on-year increase of 77%.
At the same time – and not coincidentally – more and more Zambians are gaining access to financial services in general, whether provided by an online platform or a physical bank. According to the 2020 FinScope Survey carried out by FinMark Trust, a South African NGO, access to banking services – known as financial inclusion – in Zambia grew from 59.3 % to 69.4 % between 2015 and 2020.
This growth was mainly due to the spread of mobile money, according to Dr Francis Chipimo, the central bank's deputy governor for operations. Mobile money platforms are essentially online banks operated by one of Zambia's mobile-phone network operators – Airtel, MTN or Zamtel. Subscribers can move money to, or receive money from, other subscribers who have digital money accounts on the same platform, using secure text messages. Customers can also pay bills online, using money they previously deposited into their digital accounts.
These online transactions are backed up by real-world network agents who take cash deposits from unbanked customers and credit the money to those customers' accounts, to be used for future payments. Agents also pay out cash to unbanked recipients of online payments.
Zambia has more than 100,000 registered mobile-money agents providing these cash in/cash out services. "The mobile money solution has undoubtedly created jobs for people like me," says Sara Chola, an agent based in Lusaka's Kamwala market. "We depend on this sector for survival."
While mobile money offers services to millions of unbanked people, the current system has a drawback: Transferring money to a user on a different platform from one's own can be a challenge. "Lack of interoperability in Zambia is a barrier to mobile money and therefore to financial inclusion," comments Financial Sector Deepening (FSD), a nonprofit organisation.
Indeed, Zambia has a long road ahead to full financial inclusion. According to Zambia's National Financial Inclusion Strategy paper for 2017–2022, only about 60 % of Zambians have access to financial services, and nearly two-thirds of those who have access don't use those services. This compares to financial inclusion rates of 72 % in Kenya and 43 % in Uganda.
Current users of Zambia's mobile-money networks, however, seem satisfied. "For me, accessing my account by mobile phone is a good deal, much easier than it was before," says Joe Mutemwa, a mobile-money account holder from Western Province.
"My mobile-money account helps me to grow my enterprise at lower cost, whereas a regular bank account has monthly charges," says Thelma Chinyama, a Lusaka based entrepreneur.

Derrick Silimina is a freelance journalist based in Lusaka, Zambia.
derricksilimina@gmail.com