Food security
"A food crisis is looming"
Despite producing abundant volumes of maize in the past years, fears of food insecurity persist in Malawi. Maize production is expected to decline in 2022 due to extreme weather conditions.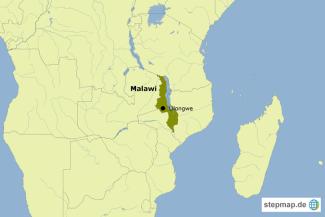 stepmap.de
In 2018, the country produced 3.4 million tons of maize; 3.3 million tons in 2019, 3.8 million tons in 2020 and 4.4 million tonnes in 2021. High yields in previous years were attributed to abundant rainfall and a successful government programme, according to the Affordable Inputs Programme (AIP) that distributes agricultural inputs.
Malawi's president, Lazarus Chakwera, has acknowledged that the country will not produce high maize yields like it did last year. Production estimates for 2022 are at 3.9 million tonnes, a reduction of about 11.3 %. He blames this on tropical cyclone Ana which formed in the Indian Ocean on 21 January and made landfall in Malawi on 24 January, causing heavy rains and flooding.
The storm affected around 20 districts in the southern and central regions of the country, especially in Phalombe, Chiradzulu, Mulanje and Chikwawa districts. An estimated over 190,000 households were affected, alongside crops, livestock and other property being washed away by flooding rivers. The country has also experienced drought spells that have affected the northern region and parts of the central region.
Amidst the disturbances of extreme weather condition, farmers are raising alarm and calling for governmental intervention. "A food crisis is looming," says Richard Chibwana, an agribusiness specialist and farmer. He says that the crisis comes at a time when people are suffering with rising market prices for food, especially maize.
"I hope the president understands that this year there will be less maize for farmers because drought is taking its toll. Crops are drying, not because they have matured, but due to severe heat and no rains," says Chibwana. The president, however, assures Malawians that nobody will die of hunger. He says that the government will purchase maize in readiness for the looming food crisis.
Additionally, the Malawian government is banking on its Affordable Inputs Programme to continue supporting farmers countrywide. Under the programme the government offers seeds and fertiliser at a subsidised price. The AIP has however been inefficient and not delivered on its objectives. It has been characterised by poor management. Farmers in Malawi have complained that they could not find the fertilisers and seeds at AIP designated depots. There are also claims that fertilisers on sale were tampered with and mixed with sand and ash. As result of this, the targeted 4.2 million farm families under the programme have not been adequately served.
While presenting the National Budget in February this year, Minister of Finance Sosten Gwengwe admitted that the AIP had not been properly managed. He however promised to address the management challenges.
He says that the government has allocated 20 billion Malawi kwacha (MK – $ 25 million) for maize purchases which will help to cushion the food shortage. The agricultural sector has been allocated about MK 447.66 billion ($ 554 million) of the MK 1.8 trillion ($ 2.2 billion) current budget.

Raphael Mweninguwe is a freelance journalist based in Malawi.
raphael.mweninguwe@hotmail.com