Land grabbing
Shared responsibility
Because of new large-scale plantations or infrastructure projects, many people are displaced from the land that their livelihood depends on. The worst affected people tend to belong to groups that are disadvantaged in other ways too. To improve matters, the UN has passed sensible voluntary guidelines on the tenure of land, forests and water. They must be implemented.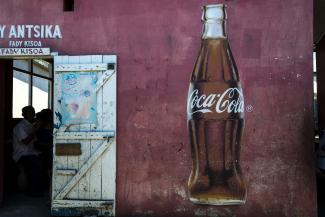 Günter Lenz/Image Broker/Lineair
The International Consortium of Investigative Journalists (ICIJ) reported in April that about 3.4 million people have been displaced or partially deprived of their livelihoods in the past ten years in the context of projects funded by the World Bank. Earlier, Jim Yong Kim, the Bank's president, had admitted that displacements are a matter of concern.

In principle, there is no doubt that the affected people must be compensated. In many cases, how­ever, it is never properly assessed beforehand who exactly is affected by a project. There is a lack of data concerning who uses land and may be doing so without formal entitlement. These things need to be investigated – whether the project at hand relates to agriculture, mining or major infrastructure such as roads and dams.

In regard to land-rights problems, the scandal which is now rocking the World Bank must probably be regarded as merely the tip of the iceberg. After all, the bank became aware of the negative social and environmental impacts of large-scale schemes such as dams in the early 1990s and has since adopted safeguards to prevent such harm. The safeguards obviously do not work perfectly. However, other important parties, for instance investors from China or Saudi Arabia, do not apply any safeguards of this kind. They should. Land transactions in developing countries have increased dramatically in recent years (see box).


Intensive conflicts

Conflicts over land relate to power. They are often particularly violent, bloody and dirty. That is not only true of wars between nation states, it also applies to intra-state disputes between different population groups, including vested elite interests and the rural poor. Not only governmental security forces are involved; various militias, mafia organisations and informal gangs perpetrate violence too.

In the rural regions of the developing world, disputes tend not to be settled according to the law. Where government institutions are weak, no one can enforce legal principles. Those who resist vested interests in such settings must be very brave. Murders occur again and again. Land-rights activists are human-rights defenders who are at risk of persecution and violence.

The norm is that the weak give in. They are helpless. Around the world, about 80 % of those who suffer hunger live in rural areas. Half of them are smallholder farmers, of whom 72 % operate farms on less than two hectares. These people are poor and uneducated. Typically, they neither get any governmental support for their farms, nor can they rely on lawyers, police or anyone else to protect them.

Land ownership and land-use rights are often not formally registered, or only inadequately so. They are based on tradition and customary rules. In public affairs and policy-making, the people who have such rights tend to be ignored. They have no voice. Women in particular are at risk of being denied their land and land-use rights. They run many smallholder farms, as many men migrate to urban areas in search of jobs and leave agricultural work to the families. However, indigenous communities, ethnic minorities or, in India, people who do not belong to a caste, are often victimised too. In many cases, the persons affected by land grabs must deal with multiple discrimination.

It must be emphasised that many people's food security is jeopardised if they lose a mere fraction of their livelihoods due to a land dispute. That may be the case when they can no longer graze their goats on a certain plot or when they get less water because of changed land ownership. The rural poor often have no other resources that would allow them to cope with setbacks of this kind.


Valuable guidelines

In response to increasing inner-state land conflicts around the world, the UN Committee on Food Security adopted a new instrument of international law in 2012: the Voluntary Guidelines on Responsible Governance of Tenure of Land, Forests and Fisheries in the Context of National Food Security. It is a most valuable legal document. It states that:
access to land, forests and fisheries is essential for making the human right to food come true, and
new investments will only drive development to the benefit of masses of people where legitimate land rights are respected and there is long term regional planning, concerning both land use and water resources.
Moreover, the guidelines spell out:
how the involvement of affected people can be ensured in policy affairs,
how respect for traditional and informal rights can be safeguarded and
how the interests of indigenous peoples can be taken into account.
That the guidelines are voluntary is no substantial reason for criticism. It would have been impos­sible to agree a binding convention on the matter in the UN context in the short or middle term. And even if that had been possible, the convention would only have bound the nations that ratified it. It is better to have guidelines that are based on multilateral consensus and are now gaining normative force. They become binding when national and multilateral development agencies or private-sector companies and banks make them a precondition for financing projects. The enforcement of human rights always and everywhere depends on success in political struggles.


Whose responsibility?

The implementation of the guidelines depends first and foremost on nation states. In UN parlance, "host states" are the states where an investment is made. They must rise to responsibility of sensitively registering who uses what land. They must protect the rights of all citizens, including the weakest. Unfortunately, these things cannot be taken for granted. In many countries, the government owns land – and it is prone to making it available to foreign investors regardless of traditional land-use rights. This is so in many African countries. The UN guidelines indicate how to improve matters, provided a government wants to get engaged in this sense.

Private-sector parties must shoulder responsibility too. Even when they buy land from state agencies, they cannot simply trust that everything will be all right. They must check what the ground reality of the real estate they want to buy is like. In some cases, they will have to conduct human-rights impact assessments. Moreover, they must make sure that evicted persons are indeed compensated.

The voluntary guidelines are useful in this context too. Several multinational corporations, including Coca-Cola, Nestlé and Unilever, have announced that they will comply with the guidelines in future. They want to avoid PR disasters of the kind that is now affecting the World Bank. Moreover, as land investments are made for the long run, they want to ensure that they can indeed use the land and do not run into problems because of conflicts.

Finally, the states where investors are based play a role. They are called "home states". In Germany, for instance, the government coalition of Christian Democrats and Social Democrats has decided to apply the guidelines. Accordingly, the UN document is now binding for international-development agencies such as KfW development bank and its subsidi­ary DEG.

The guidelines matter beyond international-development policy in a narrow sense however. They also affect export-credit insurance and the procurement policies of government-owned businesses for example.

Unfortunately, we often witness a lack of policy coherence. The EU, for instance, must ask itself whether its recent regulation makes sense, according to which up to seven percent biofuel is to be blended into petro and diesel. This policy is driving investments in large-scale biofuel plantations, which all too often lead to land conflicts. In a developmental perspective and in regard to human rights, this regulation is dubious, to put it mildly.

International donors who want to promote rural development should heed the guidelines. Obviously, that applies to the G7 and the G20 as well as to various public-private partnerships. The guidelines could similarly help the World Bank improve its safeguards and its lending policies.

Germany's Federal Government and other European donor governments have recently decided to join the Asian Infrastructure Investment Bank (AIIB), a new development-finance institution promoted by China. Obviously, they should ensure that the AIIB lives up to environmental standards and human-rights principles too.
Michael Windfuhr is the deputy director of the German Institute for Human Rights (Deutsches Institut für Menschenrechte). On behalf of Germany, he took part in negotiating the UN Voluntary Guidelines on the Tenure of Land, Forests and Water.
windfuhr@institut-fuer-menschenrechte.de