Change of power in Mali
Civil society sees political awakening
The international community has condemned the military takeover in Mali. But most of the people of Mali perceive it as a political breakthrough for their demands. Mali should not be rushed into hasty elections and should not be hit by sanctions that harm the people.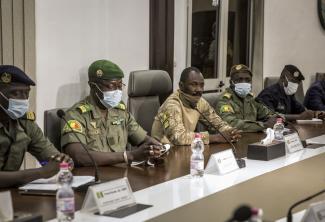 picture-alliance/AP Photo
On 18 August, President Ibrahim Boubacar Keita and the entire government of Mali resigned under pressure from the military. The Comité National pour le Salut du Peuple (CNSP – National Committee for the People's Salvation) took over the reins of government and said it would lead the country during a transition to parliamentary and presidential elections.
These events were preceded by mass protests by a broad coalition of civil society and political opposition. Initially the protests focused on electoral fraud, corruption and governance deficiencies, but later they evolved into demands for the president's resignation. The government reacted to the demonstrations with massive police violence. At least 14 people were killed and more than 100 injured. The military take­over, in contrast, was almost bloodless.
The international community fundamentally opposes power changes forced by military means, as was the case in Mali. Focus Sahel shares this position. But we also recognise that most Malians do not see the power takeover as illegitimate, but rather as a political breakthrough for their demands.
In response to the change of power, the Economic Community of West African States (ECOWAS) imposed economic sanctions and border closures. These are problematic. FONGIM, an association of international NGOs in Mali, points out the serious potential consequences of these measures. It calls for ensuring that the sanctions do not aggravate the country's humanitarian crisis or restrict people's freedom of movement.
It is also important to ensure that Mali is not coerced into hasty elections by international pressure. It will take time for the country to come to terms with the abuses of the past and to reorganise its political parties.
There is justifiable scepticism as to whether the military government is actually committed to implementing the announced transition process. Moreover, it remains to be seen which military and political factions will try to exploit the current situation for their own interests. In any case, Mali will need international support to overcome its deep crisis.
We call on the German government and the European Union to consider the following appeals from Malian civil society:
Avoid seeking a restoration of the overthrown government, particularly since Keita has declared that he is no longer available for the presidency.
Regard the current situation as an opportunity to overcome political deadlock, loss of control and an ever increasing spiral of violence.
Critically examine its own engagement in Mali, since this crisis could have been avoided. This includes recognising that military training, arms supplies and troop deployments have not brought sustainable peace. The focus should be on initiatives for civil peace and dialogue.
Call upon the military government to initiate political and institutional reforms – including constitutional reform – as part of a peaceful transition process and to put the needs of the people first. This process requires a clear roadmap and time frame. The interim government should guarantee protection of human rights and punish past human-rights violations.
Refrain from imposing its own sanctions and work towards the lifting of economic sanctions and border closures imposed by ECOWAS, as these aggravate the humanitarian crisis. Where needed, sanctions should be imposed specifically on those in power in order to exert pressure for a transfer of power to democratically legitimate structures.
Prevent embezzlement by better control and transparency in the administration of funds in future development projects.
Offer support that strengthens the Malian economy and creates better economic opportunities for the people. That should include a substantial increase of funding.

Grit Lenz is coordinator of the civil-society network Focus Sahel, which works on peace and development policy issues in the Sahel.
lenz@fokussahel.de