Low-fee schools
Unsatisfying low-cost schools
Some chains of profit-making private schools claim to bring education especially to disadvantaged communities. Experts from civil-society organisations have assessed low-fee business models and found them utterly unconvincing. The most prominent provider is the US-based Bridge International Academies.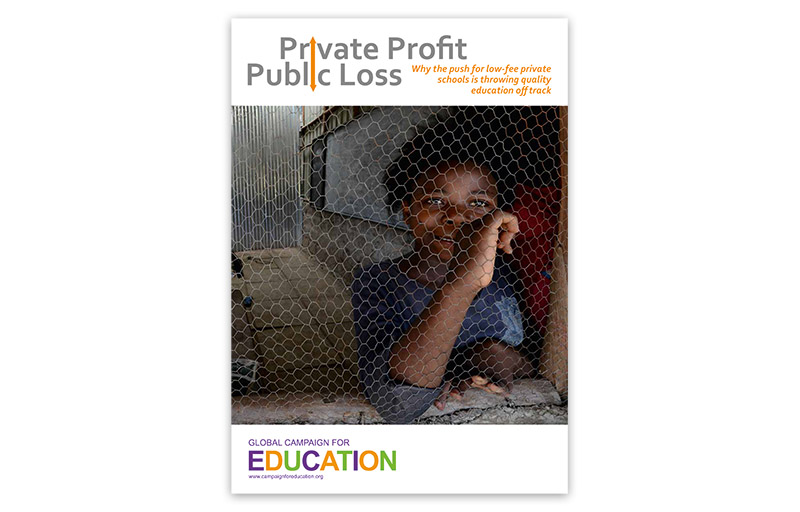 www.campaignforeducation.org/en/2016/06/29/private-profit-public-loss
The Global Campaign for Education is an umbrella organisation of civil-society agencies. With editorial support from Oxfam and Action Aid, it published a report entitled "Private profit – public loss" in 2016. The documents spells out very clearly that for-profit, low-fee schools are not an appropriate response to the primary education crisis that affects many countries with low and middle incomes. One conclusion is: "Further investment in low-fee private schools would be a dangerous experiment that could rob a generation of the world's poorest children of their best chance to thrive, with lasting impacts on public education systems."
The authors acknowledged that public schools are not up to task in many countries. They insisted, however, that such failure results from insufficient funding. Accordingly, the report calls for raising taxes and improving public finance in order to enable governments to invest in education and ensure that schools serve their purpose. It points out that state-run school systems in high-income countries generally perform well, serving the vast majority of people.
The authors considered it alarming that the share of private school enrolment at the primary level was a mere five percent in developed countries at the start of this decade, but 13 % in developing countries. They pointed out that the public sector actually outperforms private schools in terms of learning outcomes in some countries, including Taiwan, Thailand and Luxembourg. In other places, private schools were not found to be good, but merely better than poorly performing and neglected public schools.
According to the report, Bridge is not the only problematic brand. Others are the Omega chain in Ghana, APEC schools in the Philippines and similar institutions in other countries, including Nigeria and South Africa. The authors emphasised that nobody in high-income countries would expect the poorest to invest in private schooling, and added that many developing countries raise sales and value added taxes, which means that poor communities bear a large share of the tax burden. Accordingly, they should be entitled to free public services.
The experts assessed the available empirical evidence and found that low-fee private schools generally did not live up to the expectations. They proved wrong the claims of low-fee schools beeing affordable to the poorest. They warned that poor parents often have many children, so most cannot pay even low-fee tuition for all of them. Parents will be less likely to invest in their daughters than their sons, and children with disability will probably be neglected in particular, according to the report.
The conventional wisdom says that private schools are more innovative and have better trained teachers. The civil-society authors' response is that low-income countries generally do not have enough of them, and that teachers at low-fee schools often do not have any professional training at all. Compounding problems, the low-fee business models are based on standardisation to maximise scale and profit, which obviously flies in the face of the pupil-focused approaches that cutting-edge educationists promote.
In view of the data, the civil-society report lambasts donor agencies that endorse private education as a solution of the poverty problem. The
authors' message is that "the failings of public-sector education are not inherent, and can be solved with sufficient financing, strong policies and political will." (dem)

Link
Global Campaign for Education, 2016: Private profit – public loss (executive summary available in French, Arabic and Spanish).
https://www.campaignforeducation.org/en/2016/06/29/private-profit-public-loss/