Media
Fighting for honesty and truth
Disinformation can start anywhere – and, with the help of the digital grapevine and the political rumour mill, spread to all corners of the African continent within minutes. Fact-checking is a necessity.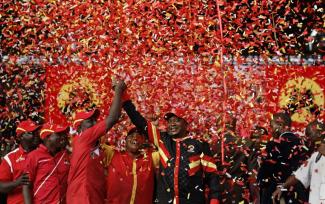 Ben Curtis/picture alliance/AP Photo
Spectacular examples of fake news include stories of:
a South African pastor mauled at Kruger National Park after challenging lions to a fight,
an elephant stealing millions from Nigerian bank in Nigeria or
Kenyan women who believe marijuana smoke cures measles among young children.
There is no evidence that any of this ever happened. In societies steeped in myth, folklore and irrational beliefs, however, that did not stop hoaxers from circulating the stories online.
Those who see these hoaxes usually do not question the stories, try to verify them or demand proof. They click forward on WhatsApp, share on Facebook, retweet on Twitter and double-tap on Instagram. They laugh about it. Some believe it. Some do not.
The psychology of the merchants of disinformation is well understood. As early as 1710, the great British satirist Jonathan Swift wrote: "As the vilest writer has his readers, so the greatest liar has his believers; and it often happens, that if a lie be believed only for an hour, it has done its work, and there is no farther occasion for it. Falsehood flies, and the truth comes limping after it; so that when men come to be undeceived, it is too late; the jest is over, and the tale has had its effect."
Rumours, gossip, spin, myth, beliefs, lies and opinions have always been part of human civilisation. Technology does not change that. If anything, it has boosted the spread of disinformation.
"What is different today is the fact that we are in an information-rich society and people have found multiple ways to lie and share their distortions quickly and widely. In other words, it's not a technology problem, it's a human problem," argues Sam Kamau, a digital-media lecturer at the Nairobi-based Aga Khan University's Graduate School of Media and Communications. He says the "human problem" in the fight against disinformation includes "low media literacy" and "low digital literacy". In his eyes, many Africans – and especially the youth – lack the knowledge, values and critical-thinking ability they would need to "manage their experiences in the cyberspace".

Politically relevant distortions
Things become dangerous when deliberately distorted information begins to shape public opinion or guide policymaking. That's where fact-checkers come in. Africa Check is a leading fact-checking organisation. It was established in Johannesburg in 2012. Its declared mission is to "sort fact from fiction" in order to keep public debate honest. Africa Check has offices in three other countries as well: Kenya, Nigeria and Senegal. Peter Cunliffe-Jones, Africa Check's founder and executive director, says all bureaus are in countries that are regional leaders, have a comparatively free media environment and good internet access. Africa Check disseminates online content in English and French.
The organisation debunks myths, exposes hoaxes, corrects wrong information and provides or amplifies the correct information (see box). It also has a dedicated platform – the InfoFinder – with reliable sources of information from different African countries. Cunliffe-Jones says the idea is to make "accurate information available through our reports, factsheets and the InfoFinder tool".
Cunliffe-Jones was appalled when he witnessed religious leaders and prominent politicians badmouth polio vaccination in Nigeria after the turn of the millennium. They argued it was an international conspiracy to make women infertile. At the time, he was the chief of the French news agency AFP's Nigerian bureau. The false claims crippled the vaccination campaigns run by the UN Children's Fund and the World Health Organization, and Nigeria did not achieve the goal of eradicating the disease.
Similar claims about vaccinations causing infertility in African girls and women continue to surface throughout the continent, most recently during the election campaigns in Kenya last year. Africa Check continues to debunk such claims.
It is now well known that the data analytics firm Cambridge Analytica did what it could to influence the Britain's Brexit referendum as well as the US presidential elections in 2016. The same firm polluted the information environment in Nigeria and Kenya during elections. Journalists obviously have a duty to tackle disinformation.
According to Eric Oduor, the secretary-general of the Kenya Union of Journalists, content launched by different political camps on social media coloured the editorial perspectives of the country's main news organisations in election times. The media found themselves "playing catch up with social media that seemed to have stolen the thunder from mainstream media", he says, as social media enjoyed the trust of content consumers in spite of neglecting key journalistic principles such as "truth and honesty".
Oduor echoes the findings of media monitoring reports that pointed out a lapse in professional media gate-keeping: "When 'fake news' finds its way into the mainstream media, the quality control system must be questioned. Editors must take responsibility because all stories must be verified and confirmed." The Kenyan trade-union leader insists: "We need a clearing house where all fake news should be flagged out once spotted." The warning should then be shared widely.
For wider reach and greater impact, Africa Check cooperates with media houses in the countries where it operates. Its staff members inform journalists, editors and media practitioners about the basics of fact-checking. Moreover, it hosts events to educate the general public.

Alphonce Shiundu who works for Africa Check as the country editor for Kenya, is currently a Chevening Scholar studying media and development at the University of Westminster in London.
https://twitter.com/Shiundu
https://africacheck.org/