Terrorism
Deadly traps
In July, mines claimed the lives of more than 40 civilians in Benghazi, Libya's second largest city. Soldiers have been killed as well. Many more people have suffered injuries.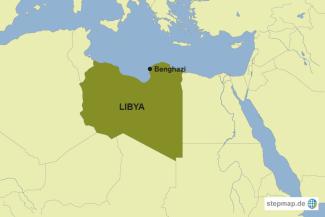 stepmap.de
The bloody war that lasted for over three years has massively damaged many central districts of Benghazi. The Libyan army finally beat the Jihadi extremists, but life in Benghazi is still dangerous. The terrorists had taken shelter in abandoned houses, and before they fled, they planted hidden anti-person mines. 
Nobody knows how many booby traps are planted in the buildings concerned. When the battles in Benghazi were finally over, many displaced residents decided to return to their homes, in spite of warnings by the army not to do so.
There are no accurate statistics, but local activists keep track of the killed and injured. "Since the government is totally absent, we have taken the initiative ourselves. For months now, we have been registering cases," says Ahmed Al-Faghi, a citizen of Benghazi.
"Three years ago, I was displaced from my home," says 45-year old Osama Al-Aisawi. He is fed up of being a refugee. He is a father of two, and his apartment is located in Benghazi's Sabri district. In spite of the booby-trap risk, Osama opened the door to his house. "I couldn't  wait anymore; I needed to return home now," he adds with a bitter smile.
Osama was lucky. There were no explosives planted in his apartment. However, he knows that there are many mines still hidden in the area he lives in. Osama, his neighbours and municipal agencies are struggling to restore the infrastructure. They want life to become normal again. "We cannot stay idle, waiting for someone to help. We are determined to revive our neighbourhood now," Osama says. The mines are a huge challenge.
The Military Engineering Unit of Libya's army is slowly making progress in demining houses. They are overburdened. They lack the technology required and have very little demining experience. According to the Unit's media office, 43 soldiers have lost their lives trying to demine Benghazi and its suburbs.
No doubt, the city needs support from the international community to restore the afflicted districts.  "Benghazi desperately needs the solidarity of the international community," says Walid Mathi, a scholar from this town. "Because of mines in many places, the people still face the death at every moment."

Moutaz Ali is a journalist and lives in Tripoli, Libya.
ali.moutaz77@gmail.com