Energy supply
"We need  finance options"
In many sub-Saharan countries, the energy sector is in disarray. While people fear the long-term impacts of climate change, they are frustrated about inadequate power supply today. Governments want to rise to the challenges. Ghana established a new Ministry for Power in view of erratic and unreliable electricity supply last year. Burkina Faso is similarly making efforts to improve the reliability of electricity supply. Rebecca Renz discussed matters with Kwabena Donkor, Ghana's power minister, and Boubacar Ba, Bourkina Faso's minister for mining and energy.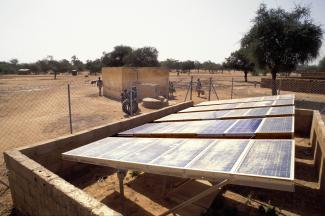 Lineair
What are the main energy supply challenges your country is facing?
Boubacar Ba: Energy supply is a disaster in Burkina Faso, and energy poverty marks our country. Only 31 % of the people have access to electric power, so most households use charcoal. The lack of energy is a huge problem for our people and our economy. In recent years, we have been mining more minerals and metals. That is good for our economy, but it requires a lot of energy, more than we can currently generate. Domestically, we have little else than biomass, so we import fuels from neighbouring countries like Ghana or Côte d'Ivoire.
Kwabena Donkor: The current challenge is the exponential growth for the demand of power in Ghana, which is around 12 % per annum. Currently, we have about 76 % of energy coverage, with around 50 % of residential use. Improving the situation is an investment challenge. Unless we rise to it, the country's growth will be stalled. It is, of course, an opportunity to attract foreign investors into Ghana.


When will your country be able to generate more green energy than fossil energy?
Kwabena Donkor: Well, we are always going to have a mix. We are not addicted to one or the other. The reality on the ground and the economic reality will determine our options. Renewables are currently not our primary source of power since our oil resources can provide our country with sufficient energy. The generation of renewable power is still in its infancy in Ghana. When we come to a certain stage of development we can generate more power from the renewables. By 2020, we plan to rely on 10 % renewable power in our energy mix.


Does climate change have an impact?
Kwabena Donkor: Historically, the use of almost every resource is fluctuating. Currently, the water levels in our rivers are going down, and that reduces our scope for hydro power. More generally speaking, we are inviting independent power producers – IPPs – to feed in power. A number of them are already doing so. Given our huge energy needs, we need private-sector companies that run conventional power plants as well as partners that use renewable sources. We enhance our energy supply from unconventional energy resources by encouraging biomass and other forms of renewables. But while we promote renewables, we cannot afford to neglect conventional power generation. We need a healthy mix to generate wealth in the shortest possible time, while taking care of the environment.
Boubacar Ba: The government of Burkina Faso is aware of the climate-change challenges, and we have taken some measures accordingly. Our energy supply must become more flexible and rely on more diverse sources. In this context, renewable options matter. Burkina Faso offers the best setting for solar technology, but financing options are expensive, and generation is not continuously guaranteed. However, it is important to safeguard sufficient supply in the entire country at all times. Unfortunately, supply is still unstable.


Given that you want to attract international investors, what does your government do to make them feel secure?
Kwabena Donkor: First of all we have bilateral agreements on investors' rights with various governments, including the German one. More important, we have legal provisions that protect private property rights. That is enshrined in our constitution. Apart from that, Ghana is the safest entry point to west Africa. We have an investment policy and an energy act that provides laws for investors.


What support do you expect from the Green Climate Fund and donors in general?
Kwabena Donkor: Well, we expect that they will support companies that want to invest in Ghana. We know this is not about charity, so we are not asking them to give us money. We think they should help companies to establish their business in Ghana and set up generating capacity. We are happy to see that German partners are getting ready to act. That is what we need. The time for talking is over.
Boubacar Ba: Burkina Faso has high expectations in regard to the Green Climate Fund. We hope we will get support for designing projects for innovative energy supply. Drafting action plans to adapt to climate change is equally of great relevance. To implement policies, moreover, we need finance options.


How do you see China's and India's role in building infrastructure internationally?
Boubacar Ba: India and China have made great progress in terms of energy supply. We expect them to be actively involved and promote emissions reductions and energy efficiency.
Kwabena Donkor: We see them as competing and sometimes replacing the established global giants. I have to say, that is good for us because more competition means that we get more value for money in Africa.


What results will the UN climate summit in Paris have – for human kind and for your country?
Kwabena Donkor: Well, I believe it will focus attention on the major issue of climate change. Hopefully, it will set up funding rules for renewables. Of course my country will actively participate.
Boubacar Ba: It is not enough to discuss the problems. We know what the problems are. The essential thing is to find solutions and take tangible action to reduce emissions.


Rebecca Renz interviewed the ministers separately in ­Hamburg during the 9th German-African Energy Forum.
Kwabena Donkor is Ghana's minister for power.
http://www.energymin.gov.gh
Boubacar Ba is Burkina Faso's minister for mining and energy.
http://www.mines.gov.bf