Biodiversity
North-south conflict lingers on
The results of the 14th conference of parties (COP) to the UN Convention on Biological Diversity (CBD) were mixed. Tensions between the global north and the global south make it difficult to adopt a joint strategy for the time after 2020.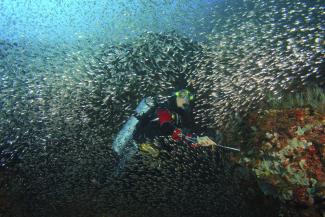 SeaTops/Lineair
The international community holds conferences every two years to discuss how to achieve the goals of the CBD. The goals include to:
protect biodiversity all over the world,
make sustainable use of forests, seas and other ecosystems and
adopt rules for exploiting genetic resources, for example in the production of pharmaceuticals or cosmetics.
In the Japanese prefecture of Aichi in 2010, the 196 member countries of the CBD agreed 20 tangible biodiversity targets. They committed to achieving them by 2020. The targets included establishing additional protection areas, both at sea and on land, as well as action against biopiracy. Biopiracy has occurred over centuries as genetic resources from developing countries were exploited without compensation.
This year's COP took place in Sharm el-Sheikh, Egypt, in late November. It took stock of the progress made up to 2018. Unfortunately, not enough was achieved in regard to urgent issues.
One target was to have 17 % of earth's surface to be declared protected areas by 2020. That target will probably be met as 15 % was demarcated accordingly in 2018. However, there are gaps in sustainable management and long-term funding. Too many areas are thus only protected on paper. On the upside, protection areas of which local and indigenous communities are in charge have expanded.
Another target was to phase out all subsidies with harmful impacts, especially in agriculture. Due to strong resistance, that will certainly not happen by 2020.
In Egypt, ministers of the environment agreed on mainstreaming biodiversity issues in essential business sectors such as power generation and mining, infrastructure, manufacturing and the processing of goods. Progress will now depend on whether the ministers will manage to convince their cabinet colleagues who have jurisdiction over these matters.

Roadmap
An important success in Sharm El-Sheikh was the agreement to draft a joint strategy for the years 2021 to 2030. The roadmap for adopting this new global framework foresees that relevant issues will be discussed in seven rounds of negotiations. Among other things, they will focus on forest protection, marine conservation areas, standards for the sustainable production of food and consumer goods, the fight against the illegal wildlife trade and raising awareness for the values of nature across all countries. The list indicates great aspirations, which are indeed necessary to stop the downward spiral of biodiversity erosion. As the international NGO World Wide Fund For Nature (WWF) showed in its Living Planet Report 2018, vertebrate populations around the world have declined by about 60 % since 1970.
On the other hand, old conflicts flared up again in Sharm El-Sheikh. Biodiversity-rich countries want their genetical resources to be protected from high-tech biopiracy. By contrast, industrialised countries want to ensure that big agriculture and pharma multinationals have free access to the genetic resources of marine and terrestrial life. Developing countries want the use of genetic resources to be regulated, and they demand a share of any profits. Because of this dispute, the COP in 2010 came close to failure. That risk may arise again in two years, when China will host the next COP in Beijing.
All CBD members have emphatically stated that they want the conference in Beijing to trigger the kind of momentum that the climate summit unleashed in Paris in 2015. However, the north-south conflict lingers on. China will need a smart negotiating strategy to overcome serious obstacles. Political will is required, mere lip service is not enough.
To tackle the global crisis of biodiversity erosion, the world's top leaders must get involved. Therefore, the WWF is demanding that the UN General Assembly in September 2020 must include a biodiversity summit with all the heads of state and government. We must put an end to the downward spiral of biodiversity.

Günter Mitlacher works for the World Wide Fund For Nature (WWF) Germany and is in charge of international biodiversity matters.
guenter.mitlacher@wwf.de

Link
WWF, 2018: Living Planet Report:
https://www.wwf.de/fileadmin/living-planet-report/2018/WWF_Living_Planet_Report_Englische_Version.pdf