Fossil fuel industry
China continues to finance coal power around the world
Chinese banks and companies are investing heavily in the construction of new coal-fired power plants, particularly abroad. In doing so, they are bucking the global trend and the policies of their own government, which has made promoting renewable energies a top priority.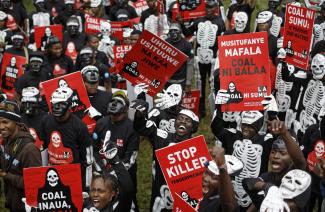 Ben Curtis/picture-alliance/AP Photo
China is a country full of contradictions. On the one hand, it leads the world in the field of renewable energy. On the other, Chinese companies are playing a major role in the construction of new coal-fired power plants around the world. They have financed 54 gigawatts (GW) of coal-fired capacity in 20 countries, according to the Global Coal Exit List, which was compiled by urgewald, the international non-governmental organisation we work respectively worked for. But China is not alone: most of the loans for the construction of these plants worldwide were handed out by Japanese and European banks.
China's economic miracle is based on coal production. Around half of all coal used internationally is mined in the People's Republic and burned there. China is the largest coal producer. But while China is first when it comes to hard coal production, Germany is the lignite world leader in terms of both production (17 % of the global volume) and consumption (14 %), according to Germany's Federal Institute for Geosciences and Natural Resources. China's hunger for energy has a global dimension, moreover, since companies from all over the world rely on Chinese manufacturing and thus drive China's consumption of natural resources. Germany too, of course, exports more goods than it imports.
In 2004, China began to redraft domestic and industrial policies. Mai Kai, who was the head of the National Development and Reform Commission (NDRC), the top planning authority, called for a new commodities policy that would gear the country's development to sustainability. Foreign-direct investment was promoted at the same time.
The shift towards sustainability was, in large part, motivated by never-ending protests because of massive air pollution. Media criticism of the wretched social conditions of coal miners mattered too. Chinese mines have since been modernised, and in 2014, guidelines on mining companies' social responsibilities were published. Lignite production declined for the first time since 1970.
Gas is now supposed to replace coal as a source of energy. That transformation process is well underway. The government has taken drastic measures to reduce coal consumption: in 2017, the operations of the last coal-fired plant in Beijing were stopped, and in September 2019, the main regulatory authority, the National Energy Administration (NEA), demanded that all regions and provinces close any small coal-based plants with under 50,000 kilowatt capacity. Furthermore, over 2 million households in industrial centres with heavy air pollution will now get heat from liquefied natural gas (LNG). This resource will be imported on a much larger scale in the near future.
But in the larger scheme of things, these measures just amount to a drop in the bucket. According to the news agency Reuters, the projected coal savings of 8.7 GW make up less than one percent of China's total capacity. Although the share of coal in China's energy mix dropped from 68 % in 2012 to 59 % in 2019, coal consumption is still increasing in absolute terms. Indeed, China is currently building new coal-fired power plants that will exceed the entire capacity of the EU. The coal-to-gas strategy, moreover, does not take into account that LNG is a fossil fuel too.

Contradictory policies
China is the world's largest investor in renewable energies. Forty-five percent of the total serves domestic needs. Beyond its own borders, however, the People's Republic keeps investing heavily in coal (see Katja Dombrowski, Monitor section, D+C/E+Z 2018/01). Since the country joined the World Trade Organization (WTO) and launched its so-called "Go Global" strategy in 2001, Chinese companies have made massive investments in energy infrastructure abroad, enjoying support from governmental foreign-trade initiatives. At the time, the domestic coal market was saturated, so coal companies started looking for new markets, which they found primarily in South and Southeast Asia.
In 2010, Chinese investments in coal-fired power plants reached a peak. In that year alone, Chinese companies and investors concluded agreements with other countries regarding 50 GW of additional coal power. The years 2010 to 2013 were then characterised by stagnation. Some projects were cancelled and Chinese investors became more careful in view of low growth rates in Asia and changes to guidelines in India. India was – and still is – the largest recipient of Chinese coal investments.
In 2013, the government placed foreign investments under the umbrella of the One Belt One Road Initiative (see Katja Dombrowski, Monitor section, D+C/E+Z e-Paper 2017/10). As part of a new development strategy, the promotion of regenerative energy was declared to be a "top priority". Nonetheless, three-fourths of Chinese external trade initiatives in the energy sector were geared to fossil-fuel projects. Projects amounting to 221 GW are planned. That is slightly more than Germany's current capacity of 220 GW and more than India currently intends to install.
In 2019, according to our Global Coal Exit List, 744 coal-fired power plants and coal mines accounted for 89 % of global thermal coal production (the other 11 % was not included on the list because the responsible plants were small or didn't meet the criteria for other reasons). Four hundred of these facilities were planning extensions, and a quarter of them were Chinese.
Many of the countries that Chinese investors are targeting face the challenges of growing populations and fast rising energy needs, not least due to industrialisation. Large-scale investments in coal, with plants that have an average service life of over 40 years, will hurt these countries' development over the long term. After all, coal is the dirtiest source of energy, and many facilities may have to be discontinued much earlier than forecast in the plans.
According to a report by the Ohio-based Institute for Energy Economics and Financial Analysis (IEEFA, 2019), Chinese lenders are stepping in where others are withdrawing funding. The report is based on data from the Global Coal Plant Tracker. It reveals that Chinese development banks, state-owned banks and companies are financing more than a quarter of all planned coal capacities outside China (102 out of 399 GW). The figure includes investments in coal exports, coal-fired power plants and related infrastructure.
As urgewald's data show, Chinese banks have assumed the dominant role in financing coal plants around the world. They have underwritten 69 % of global coal investments and will want to ensure that those investments pay off. The people who live in the target countries will benefit less. Many places concerned lack, but urgently need environmental protection rules. Others are relaxing such rules against the backdrop of Chinese investment (see the example of Bangladesh in the box).
On the one hand, China's current policies on energy and industry make a considerable contribution to climate protection, but on the other hand, Chinese banks and companies are leading the expansion of coal investments. Around the world, financial institutions are increasingly backing off from coal, and UN Secretary-General António Guterrez has even called for a ban on new coal plants starting this year. But none of this will be effective if China does not renounce its role as a major financiers of coal power. The Chinese firm Ping An, one of the largest coal insurers in the world, has now taken the first step and outlined a coal exit strategy. The move provides a glimmer of hope. For the sake of the climate, coal must not stay profitable.
Things may turn out differently. A new Carbon-Tracker report points out that China intends to stimulate the economy after the Corona crisis by building new coal-based power plants. From 1 March to 18 March, a generating capacity for 8 GW was approved. Authorities indicate coal regulations may be loosened. There are plans to invest the equivalent of an additional € 158 billion in coal-related facilities.

References
urgewald: Global Coal Exit List.
https://coalexit.org
IEEFA, 2019: China at a crossroads. Continued support for coal power erodes country's clean energy leadership.
https://ieefa.org/wp-content/uploads/2019/01/China-at-a-Crossroads_January-2019.pdf
Global Coal Plant Tracker:
https://endcoal.org/global-coal-plant-tracker/
Carbon Tracker, 2020: Political decisions, economic realities: The underlying operating cashflows of coal power during COVID-19.
https://carbontracker.org/reports/political-decisions-economic-realities/


Nora Sausmikat has been working for the environmental and human-rights organisation urgewald with a focus on China since 2019. She previously directed the China programme of the non-governmental foundation Asienhaus.
nora.sausmikat@urgewald.org
Quirin Jetschke studies international relations and development policy at the University of Duisburg-Essen and is a trainee at urgewald.
quirin.jetschke@stud.uni-due.de