Chronic diseases
Brazil's health-care challenges
Brazil faces rising demand for all types of medicines, particularly those related to chronic diseases. At the same time it is fighting misinformation that reduces demand for necessary vaccines.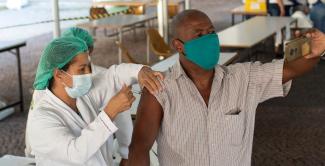 Silvia Izquierdo/picture-alliance/ASSOCIATED PRESS
The slow start of the Covid-19 vaccination programme has diverted attention from other big challenges facing Brazil's health-care system, known as the SUS (Sistema Único de Saúde). For example, chronic illnesses such as cancer, heart disease, diabetes and respiratory difficulties are on the rise among Brazil's 212 million people. Together, such non-communicable diseases accounted for 72 % of deaths in 2013, according to the country's National Health Survey.
The wave of non-communicable diseases makes Brazil one of the world's biggest consumers of medications. In addition to drugs meant specifically to combat chronic diseases, such as blood-pressure medications, the bestsellers include anti-inflammatories, painkillers, tranquilisers and nasal decongestants, according to Brazil's Federal Pharmacy Council.
Brazil's embrace of medications has traditionally included acceptance of vaccinations – although this support is weakening in the case of Covid-19 vaccines, particularly in view of the Covid-19 stance of President Jair Bolsonaro. Much of the scepticism is due to false information circulating in media, says Adriana Teixeira, a PhD student in Communications at the Pontifical Catholic University of São Paulo. For example, some indigenous groups wrongly believe that Covid-19 vaccines alter DNA, she says, adding, "we have good reasons to fight such messaging".
Yet vaccine hesitancy is spreading, and not only in the case of coronavirus. The last year in which Brazil reached its vaccination target (95 %) against polio was in 2015. Since then, the number of children vaccinated against polio has fallen below 90 %, according to the Brazilian Immunisation Society, a professional group. The causes are not only vaccine hesitancy, but also problems in the way vaccination campaigns have been organised and communicated, the group says.