Churches
Churches in South Africa lose worshippers after pandemic
The Covid-19 lockdowns changed behaviour patterns as health experts discouraged physical meetings. In South Africa, going to church is one of the most popular traditions for Christians.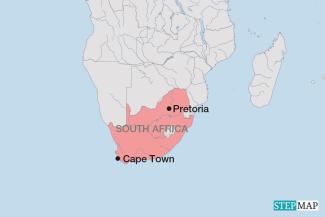 stepmap.de
Technology allowed online church attendance through platforms such as Zoom and WhatsApp. Now, as the world reintroduces physical meetings, church administrators are decrying low numbers of worshippers.
Church and faith establishments are not only a faith issue, but also an economic enterprises. The country has a very high unemployment rate  which has led to the emergency of "faith entrepreneurs" who use religion to collect money from church attenders. Attracting a large followership means that "pastors" or evangelists of these churches can collect large sums of money from their followers.
During the Covid-19 lockdowns, church business became digitised. Faith entrepreneurs were able to open "Zoom churches". The venture was very lucrative because the church could hold multiple sessions, have attendees from all over the world and collect money (tithe, offerings) using digital payment platforms.
Congregants quitting their churches
As the pandemic subsides, South Africa's churches are suffering from a 'great quitting', with congregants vanishing from Sunday Zoom church services and quitting their old churches as they get poached by rival congregations.
"I'm a pastor – thanks to the pandemic which is vanishing, the migration from online to offline has led to a 'great quitting' of my worshippers," says pastor Leonard Cele, of the Greater African Boksburg Church in Johannesburg.
"The wave of 'Zoom churches' we held in 2020 meant that at the click of a button, my flock could attend five different services from five different churches in a day from their Wi-Fi enabled laptop at home. Now Zoom churches have declined, and 30 % of my flock can't show up in person back at church. I'm not sure if I have lost them to rival churches or if they have abandoned the faith briefly or completely," Cele says.
The return to normal after the pandemic has not been an easy transition for people and institutions around the world. New realities created during the pandemic have become a norm that is hard to shake off. For pastors like Cele, the return to normal has brought new challenges. While worshippers could attend multiple events online, this is not possible with physical churches. People now must choose which church to attend.
"It's a crisis for pastors. There is less money and earnings in tithe if worshippers quit their established churches," says Kudakwashe Magezi, a poet in Johannesburg.
The harsh Covid-19 lockdown in South Africa saw church services banned alongside other mass gatherings like beerhalls, sports events, and weddings. Churches are a major part of South Africa's economy as they must pay a tax to the South African Revenue Service (SARS) to operate. Pastors too pay an income tax and make contributions to the Unemployment Insurance Fund (UIF). In 2022, SARS made over 900 million Rand ($ 52 million) from non-compliant churches and luxury car owners after an audit of 33 churches.

Nyasha Bhobo is a freelance writer based in South Africa.
nyashabhobo@gmail.com