Nicaragua Canal
Citizen protests
The construction of the Nicaragua Canal is heavily disputed. So far, resistance to the project has come primarily from people who will be impacted directly. In the final months of 2014, for instance, farmers and village residents began protesting the loss of their land. But the majority of Nicaraguans do not yet seem aware of what the construction will mean for them. As a result there has not been a broad public debate. By Cecilia Medal Salaverry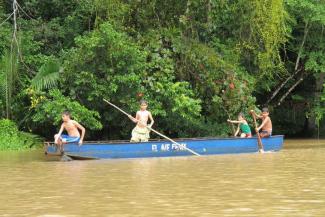 Johanna Kirchner
Nevertheless, the fierce resistance of rural communities is starting to have a ripple effect. At the end of last year, residents of the departments of Rivas, Rio San Juan, Juigalpa and Neuguinea founded the "National commission to defend the land, the lake and national sovereignty".
They organised almost 40 demonstrations with approximately 70,000 participants demanding a dialogue with the authorities. They also collected 60,000 signatures to call for a repeal of Law 840. More than 180 citizens submitted documentation to prove the unconstitutionality of the law, but the Supreme Court promptly dismissed them.
The government has responded to the protests with violence. On 23 and 24 December, police and military units conducted operations in Rivas and El Tule. According to the Nicaraguan human rights centre CENIDH, more than 70 people were wounded and many were arrested. On 24 December alone, 46 people were arrested and held for a week without being charged. Many of them later filed charges of abuse and torture against the police. CENIDH and Amnesty International collected their statements and presented them to the UN High Commissioner.
It is poor communities who are currently fighting the hardest to protect natural resources. These people are going out on foot and putting their physical safety and freedom at risk because they know they will be the worst hit if the project proceeds as planned. (cm)
Cecilia Medal Salaverry is a feminist and sociologist from Nicaragua and a member of the Aula Propia collective. csalaverry@gmail.com