Polycrisis
Pakistan's profound poly crisis
Pakistan is stuck in a deep crisis. The country must rise to huge political, security, economic and environmental challenges.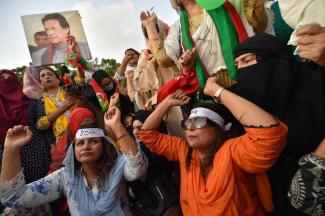 picture alliance / EPA / Shahzaib Akber
In August 2023, expensive electricity bills sparked a public uproar across the country. People set their bills on fire to mark their protest. The business community, moreover, staged a shutdown to highlight increasing production costs.
The background is that the cost of living has sharply increased in the past 18 months. Prices of basic commodities now exceed the purchasing power of the middle classes. There were unexpected hikes in fuel, electricity and gas tariffs. 
According to the Asian Development Bank, Pakistan's inflation accelerated to 29.2 % in the fiscal year 2022/23 – up from 12.2 % in 2021/22. At the same time, large parts of the country never recovered from last year's devastating floods, which exacerbated the pre-existing economic mess.  
Amidst this misery, the country faces political unrest and uncertainty. A general election is legally due by 6 November at the latest, but the Election Commission has indicated it will only be held in late January. Many doubt that it will happen as planned. The biggest question, however, is whether credible elections are possible at all in view of the current turmoil. 
Political unrest
In April 2022, Prime Minister Imran Khan was ousted through a parliamentary vote of no-confidence. Khan keeps blaming the powerful military establishment for his removal, but the generals deny those allegations. Khan is a former cricket star and quite popular – not least because he does not belong to either of the large – and largely discredited – political camps which gravitate around the PML-N (Pakistan Muslim League – Nawaz) on the one hand and PPP (Pakistan Peoples Party) on the other. These traditional forces forged an awkward coalition to oust him. 
Following his removal from office, Khan launched a protest movement. He tried to force the government to announce snap polls which he believed he would win. He twice told supporters to march on Islamabad, the capital city. In November last year, he survived a gun attack during a rally. 
However, Khan is embroiled in several legal cases. He has been found guilty of corruption but has filed an appeal against that judgment. He is also accused of instigating unrest and terrorism. Violent protests erupted after his arrest in May. In response, the security forces have clamped down on Khan's party PTI (Pakistan Tehreek-e-Insaf) and its supporters. 
The 71-year-old ex-premier is currently languishing in a high-security jail. His followers suspect that he has been put behind bars to keep him from running in the general elections. A recent statement by Anwaar ul Haq Kakar, the caretaker prime minister, has further fanned their anger. He said that "fair" elections were possible without Khan and his jailed party leaders. Remarks like this increase people's doubts regarding the credibility of the upcoming election. 
Other politicians face legal problems too. Nawaz Sharif, a three-time former prime minister, who has been living abroad for years, has announced he will return to lead the election campaign of the PML-N. He will have to fight a legal battle to make such a political comeback. After all, he has been convicted of corruption and is therefore disqualified from holding any public office.
The security situation in the country is fragile. Terrorism incidents have increased since the Taliban took over Afghanistan in August 2021. 
Macro-economic challenges 
All of this is exacerbating economic problems. Apart from inflation, Pakistan is grappling with dwindling foreign reserves, the declining value of its currency and a high fiscal deficit. The debt situation is difficult too. Earlier this year, the country got a $ 3 billion loan from the International Monetary Fund (IMF). A comprehensive resolution of all sovereign debt problems, however, would require a deal involving all creditors, including China. Serious negotiations on the matter have not even begun. 
In the past, most elections in Pakistan remained controversial due to rigging allegations. The country now needs free, fair and prompt elections to regain political stability. After all, only a fully legitimate government can sort out the economic mess. Polls can only be credible if all parties are given a fair chance to compete. Whether the nation will get what it needs is an entirely different question. 
Imran Mukhtar is an Islamabad-based journalist. 
imranmukhtar@live.com