Social media
Serious discrimination
Current frustration with Twitter in India shows why the big internet multinationals require global regulation. Democratic societies must be protected from lies, disinformation and corporate discrimination.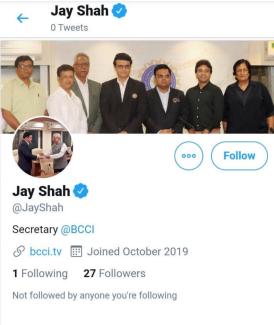 Screenshot: https://twitter.com/jayshah
In India, social-media platforms are very important. Hundreds of millions use them, and the mainstream media have largely caved into the Hindu-supremacist government. It therefore was a shock to see that Twitter is not the open space it pretends to be. People from the Dalit community, the lowest caste group, have ample reason to accuse Twitter of casteism and discrimination.
India's caste system is an age-old social hierarchy that fosters discrimination and violence. In the past, Dalits were called "untouchables" and later "Harijans". Officially, India's constitution abolished "untouchability" after independence in 1947, and a law of 1989 is supposed to prevent atrocities against Dalits. Another law mandates affirmative action to compensate for – and facilitate an escape from – poverty and marginalisation. That this law is still needed today, shows how deeply entrenched caste discrimination is.
The advent of the internet inspired hopes for more inclusion. Platforms that give access to everyone such as Facebook and Twitter were expected to serve as open spaces that give voice to marginalised people. As we learned in the past few weeks, however, Twitter has not been levelling the playing field. Rather, the accusations are that it has been reinforcing the caste hierarchy by halting the verification of accounts owned by Dalits. Verification means that Twitter confirms that an account of considerable public interest is authentic and belongs to a real person. Verified accounts get a blue tick, which enhances their credibility. If these accusations are true, that would amount to serious discrimination.
In response, Dalit activists began to campaign against Manish Maheshwari, Twitter's managing director in India. They asked Twitter to expel him, but so far without success.
Dalit activists allege that high-caste people get verification easily. A prominent example is Jay Shah, the son of Home Minister Amit Shah. Though he barely had any followers on Twitter and not tweeted even once, his account got the blue tick. By contrast, anti-establishment people with a history of many relevant tweets and much larger followings did not get it. Indeed, Twitter has a tendency of using small pretexts to limit their outreach by locking, restricting and even suspending their accounts. At the same time, the platform tends to remain soft on trolls and hate-peddlers who are close to the Hindu-chauvinist government (see my essay in D+C/E+Z e-Paper 2018/05, Focus section). These people systematically denigrate Dalits, demonise Muslims and agitate against other minorities. Twitter has tried to "clarify" its position, but to its critics, its partisan leaning is obvious.
It is similarly worrisome that, as we also learned in November, over a dozen Indian politicians, activists, lawyers and scholars were spied on. Sophisticated software called Pegasus was used to track them online via WhatsApp. Pegasus is owned by NSO, an Israeli software firm, which has recently been sued by WhatsApp in the USA because of privacy breaches. In response, NSO stated that it does not support Pegasus use against human-rights activists or journalists, and only sells it to "government intelligence and law enforcement agencies to help them fight terrorism and serious crime". Did India's government use this technology to monitor people it does not like?
In the USA, public debate is focusing on whether social-media platforms should allow politicians to spread lies in advertising. According to Facebook, which allows such ads, this is ultimately a matter of freedom of speech. Twitter, by contrast, has banned political advertising. But the underlying and more important question remains open: Who is the proper authority for taking such crucial decisions: self-regulating multinationals, the government or an independent third-party body?
Issues of fake news and hate speech are even more pressing in developing countries where public institutions tend to be weaker. Political advertising, moreover, is not the only problem. India's social-media sites apparently have a growing pro-government bias. We need global regulations to ensure that democracies around the world are not undermined by internet multinationals that ultimately care about nothing else than their profits.

ArFa Khanum Sherwani is senior editor with the independent news website TheWire.
Twitter: @khanumarfa
https://thewire.in/