Child labour
Underage miners
In January, three boys were buried alive as they mined manganese, an important industrial metal. The accident brought to light the continuous existence of child labour in rural parts of Zambia, which is owed to poverty.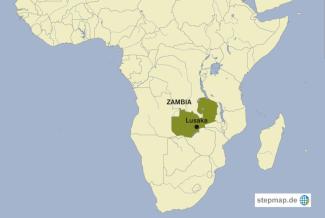 stepmap.de
The three schoolboys were working in a mine in Samfya district, near the border with the Democratic Republic of the Congo, when a tunnel collapsed. According to the police, they were 11, 13 and 15 years old and all belonged to the same family. Another 11-year-old boy, who was in their company, escaped the accident unhurt.
Mines Minister Richard Musukwa says the government cannot revoke or suspend the licence of the Zambia Amalgamated Mineral Group that operates the mine, because it is at an exploratory stage. Having a so-called "prospecting licence" does not oblige the investors to implement any safety standards.
The UN office in Zambia sent a message of condolences to the family of the deceased. "No child should be forced to work. Child labour is preventable," UN country representative Janet Rogan pointed out. "Every child should be free to enjoy his or her rights to education, protection and recreation." According to Zambian law, "a child between 13 and 15 may be engaged in light work which is not likely to harm the child's health or development; or which is not prejudicial to that child's attendance at an institution of learning or participation in vocational orientation."
Violet Kangumbe, a resident of Ndola on the Copperbelt, says that the death of the juveniles is an indication of rural poverty. "Child labour is a sad fact, especially in rural areas," she says. "The reason is the high level of poverty in the country. Children are not allowed to enjoy their childhood, because they are trying to survive."
A 2017 report of the United States' Bureau of International Labor Affairs lists Zambia's worst forms of child labour in agriculture, industry and services. "Some of the children in Zambia are forced by so-called jerabos, which are illegal mining syndicates on the Copperbelt, to load trucks with stolen copper ore," states the report. Others are engaged in mining of gemstones, including amethysts and emeralds, as well as lead, zinc, iron and copper ores.

Humphrey Nkonde is assistant to the editor-in-chief at Mission Press and a media researcher based in Ndola, Zambia.
humphrey_nkonde@ymail.com
LINK
United States' Bureau of International Labor Affairs 2017 child labour report for Zambia:
https://www.dol.gov/agencies/ilab/resources/reports/child-labor/zambia