Knowledge building
Training local artisans to produce school furniture
In many Zambian schools, students do not have desks to sit during the lessons. In addition, most of the furniture used in schools is imported. For this reason, the "2,000 Desk project" has been launched in the town of Solwezi by the government to equip school kids with capacity and competences through a youth skills empowerment training programme.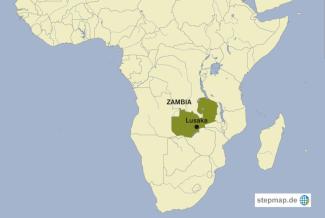 stepmap.de
The programme supported by the Solwezi Trades Training Institute (SOTTI) and Kansanshi Mines is creative because it will tackle multiple challenges in Zambia. Schools will be provided with the much-needed furniture for their pupils while the government will attain its objective for skilling citizens and creating much needed jobs.
Kansanshi Mining, a subsidiary of the global copper company First Quantum Minerals, has offered to supply steel and wood for the project. SOTTI on the other hand will train the artisans who will produce the desks for the schools. The institution is already training 80 women in various skills programs under the support of the Africa Development Bank (ADB).
"We should no longer import desks because as a country we have more than sufficient capacity and capability to be able to make our own desks. We are answering to that call saying that yes, we can," said Felix Mutati, the minister of technology and science.
The 2,000 Desk project has so far absorbed 30 students in metal fabrication and 30 students in carpentry and joinery. The government sees the initiative as a reflection of its development objectives encompassed in the 2030 agenda and the revised 8th National Development Plan which are in line with SDGs.
Mutati believes the initiative can absorb thousands of unemployed youth who drop out of school due to various challenges. He says that SOTTI is providing training for youths with little or no education. Most of them will work as carpenters or metal fabricators in the formal and informal sectors.
North-western province minister Robert Lihefu described the project as a landmark aspiration of Zambia's new government saying, "I am extremely excited to be part of this launch and I hope to see more youths benefit not only from here in Solwezi but also in other parts of the province because we have adequate land and forests to support the initiative."
Kansanshi Mine General manager Anthony Mukutuma believes the project represents sustainable community empowerment. "On behalf of Kansanshi as well as my team, we are always very happy to take part in sustainable projects such as this one and we look forward to continued involvement in other programmes in the district," he said.
"The school's desk project will definitely enhance our local industrialisation agenda and create the much-needed jobs, reduce poverty, promote self-sustainability among the youth and economically empower them to play a more meaningful role in the development and uplifting of their communities and the nation at large," Boyd Muleya, a Lusaka based economist says.