Domestic workers
On the home front
Covid-19 has hit Chileans hard; among those hit hardest are women employed as house maids.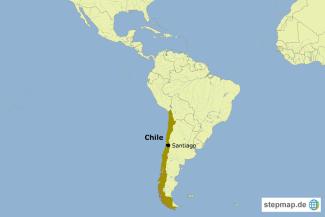 stepmap.de
When the government imposed a Coronavirus lockdown in spring, many women employed as domestic cleaners, cooks, child-minders and general helpers were given a harsh ultimatum: remain confined to their employers' homes or lose their jobs.
Those who refused were usually fired. Many domestic workers were not even given an option to stay; they were dismissed outright. Fear of contagion continues to keep many of those women out of work.
According to Sintracap (Sindicato de Trabajadoras de Casa Particular), a labour union representing domestic workers in Chile, more than 12,000 domestic workers were affected.
One of them was the union president herself, Luz Vidal. "If they have to remove someone, they will remove you," she says. "Having worked in the same house for several years is no guarantee of anything."
Nationwide, 40 % of female workers in Chile – in a range of occupations including domestic work – have lost their jobs due to the pandemic, the union says. Thousands more have been suspended from their jobs with no clear idea when they might return to work.
Vidal fought back against her firing. "We filed a complaint about the required confinement, because when it comes down to it, we are talking about a slave regime," she says.
Covid-19 is the latest front on which Sintracap is battling for the rights of domestic workers. The union was founded in Chile in 1947 and has worked over the years to upgrade the image and status of domestic workers. It offers legal advice and lobbies to improve working conditions. 
The union won a major victory in 2014 with enactment of a law regulating pay and rest periods. The legislation also freed domestic workers from a requirement to wear an apron wherever they went, even outside of their workplaces, to signal their occupation. The 2014 law was a major step forward to giving domestic work a measure of dignity.
Sintracap is among the first unions of domestic workers in Latin America. Although it has only about 3,000 members in Chile, it provides a voice indirectly to hundreds of thousands of domestic workers. 
Chile has an estimated 300,000 domestic workers. One-third of these are migrant women, whose situation is even more precarious than that of Chilean women in these jobs. According to Sintracap, many domestic workers are afraid to join a union for fear of being dismissed.
In Chile, domestic workers taking care of well-to-do families have been a familiar sight since colonial times. At first they were called servants and later nannies if they took care of children. But only in recent times have they been accorded the status of employees like any other.
Sintracap walks a fine line: It tries to build upon the advances it has achieved for domestic workers, while encouraging employers to create more domestic jobs and rehire the workers they let go due to the pandemic. That balance is not easily achieved.

Further reading
Sintracap Chile:
http://www.sintracapchile.cl

Javier A. Cisterna Figueroa is a Chilean journalist based in Concepción.
cisternafigueroa@gmail.com