Nutrition
Hunger amid plenty
Malawi's politicians celebrated a bumper maize crop in 2020, highlighting that the yield was 42 % above the five-year average and 29 % above the national requirement. They attributed much of the bountiful yield to the country's Farm Input Subsidy Programme, which lets farmers buy inputs such as seeds and fertilisers at subsidised prices. Good rainfalls in most parts of the country also helped.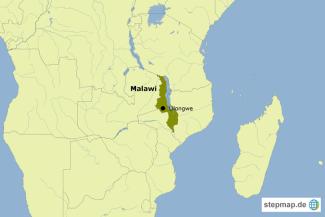 stepmap.de
But even before the celebrations died down, nutrition experts sounded a note of caution: High agricultural yields do not necessarily mean improved nutrition. Production of agricultural goods is only one part of a larger system needed to ensure proper nutrition; other elements include efficient food processing and distribution, and education about human nutritional requirements.
"Food production alone does not translate into better nutrition," notes Martha Nyagaya, country director in Kenya for Nutrition International, a non-profit organisation based in Canada. "The focus should be on ensuring that food systems, social-protection programmes and nutrition policy all work together to end hunger and malnutrition."
All parts of a country's food system should be coordinated and should work towards the same goals, says Francesco Branca, the World Health Organization's head of Nutrition and Food Safety. They should ensure that nutritious food is available, accessible, affordable and desirable, he says.
Coordination of food systems should occur across borders as well. African countries should work together to improve their food systems and ensure nutrition security, Malawian President Lazarus Chakwera told reporters this summer.
National statistics show that concerns about sub-par nutrition are justified. About 63 % of Malawian children under the age of 5 are anaemic, as are 33 % of Malawian women, according to USAID's Malawi Nutrition Profile. Similarly, 37 % of Malawian children are too short for their age due to poor nutrition, and 23 % of child deaths in Malawi are related to malnutrition, according to UNICEF.
The root cause of malnutrition is poverty. In Malawi, half the population is poor and one-fifth is extremely poor, according to the National Statistical Office (NSO). Most Malawians cannot afford a diet that includes all the basic elements: carbohydrates, fats, vitamins, fibre, minerals and proteins.
Malawi is not alone in this predicament. Even before the Coronavirus pandemic, the world was not on track to meet commitments to end hunger and malnutrition by 2030, according to the UN Food and Agriculture Organization in its 2021 report "The State of Food Security and Nutrition in the World".
"Prior to the pandemic, more than 820 million people globally were already identified as chronically food insecure," says Agnes Kalibata, former agriculture minister in Rwanda and a special envoy to the UN's 2021 Food Systems Summit.

Raphael Mweninguwe is a freelance journalist based in Malawi.
raphael.mweninguwe@hotmail.com