Film
"The Woman King": Emancipation and bloodshed
In the entertaining action film "The Woman King", a guard of female warriors fights for the self-determination of their people. The film is based on historical circumstances in the former West African kingdom of Dahomey. However, it's less concerned with accurately depicting past events than with entertaining and inspiring its audience. This is the third item in this year's culture special with reviews of artists' works with developmental relevance.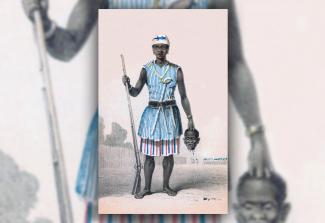 picture-alliance/CPA Media Co. Ltd
African female soldiers, armed with machetes and spears, brutally attack an enemy village under the cover of darkness: the action-packed opening sequence of "The Woman King" recalls historical dramas like "Braveheart" or "Gladiator". This time, however, it is not white men who show their fighting prowess, but instead the "Agojie", an all-female elite guard of the fictionalised West African kingdom of Dahomey.
Led by General Nanisca, the warriors battle a supposedly superior alliance of neighbouring peoples who are oppressing the Dahomey and have already sold some of them to white slave traders. The film sets the events in the year 1823.
Nanisca, complexly portrayed by Oscar winner Viola Davis, is, on the one hand, a tough leader, and, on the other, deeply traumatised: she became pregnant after being raped by her enemies and had to give up her child immediately after birth. Her authoritarian leadership style is challenged by the young Nawi, played by Thuso Mbedu, who is eager to earn a place in the guard.
Both characters undergo a development. Nanisca faces her past and gets caught up in the competition to see which woman will be chosen to reign alongside the new ruler, King Ghezo (Golden Globe winner John Boyega) as "Woman King". And for Nawi, who turns down an arranged marriage, the training to become an elite soldier is a process of emancipation and self-discovery. It is primarily these two strong female characters that give the film its emotional depth.
Against slavery
The proud Ghezo also wants the Dahomey to emancipate themselves. In "The Woman King", there's only one way to achieve that: battle. It's waged through more fast-paced action scenes, some of which are very brutal. There is no shortage of blood in this movie, which is why it is not recommended for viewers below the age of 16.
Even when the Dahomey battle neighbouring African peoples, Nanisca makes it unmistakably clear who the real opponents are: "The white man has brought immorality here", she says. "They will not stop until the whole of Africa is theirs to enslave."
"The Woman King" has been sharply criticised for its depiction of the Dahomey and slavery. One argument is that the female protagonists come off too well, and the film missed its chance to appropriately do justice to the nuanced history of slavery by obscuring how much the historical kingdom of Dahomey actually profited from the slave trade. Dahomey existed from the 17th to the 19th century in what is now Benin and did indeed produce exceptional female soldiers.
Inspiration instead of historical accuracy
The drama, which was filmed in South Africa, does quote its historical model, but ultimately claims to be a work of fiction. It's less concerned with historical accuracy than with being an inspiration to its audiences, for example with this speech by King Ghezo: "The Europeans and the Americans have seen: if you want to hold a people in chains, one must first convince them that they are meant to be bound. We joined them in becoming our own oppressor. But no more. No more. We are a warrior people! And there is power in our mind. In our unity. In our culture. If we understand that power, we will be limitless."
These messages likely resonate with many people in Africa and other parts of the world, given ongoing racism and oppression. For good reason the African American Film Critics Association (AAFCA) presented its award for best picture to "The Woman King" in 2023. Gina Prince-Bythewood was awarded best director.
Film
The Woman King, 2022, USA, 2 h 14 min, FSK 16, director: Gina Prince-Bythewood.
Jörg Döbereiner is an editor at E+Z/D+C.
euz.editor@dandc.eu