Fisheries
Dying out
A combination of overfishing, pollution and climate change is taking a toll on fish catches in Lake Tanganyika and other lakes and rivers in Burundi.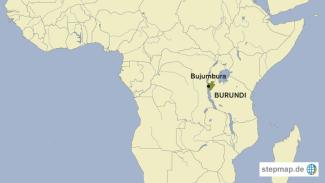 stepmap.de
The main concern is Lake Tanganyika, Burundi's main fishery, which is also bordered by the Democratic Republic of the Congo, Tanzania and Zambia. Its fish stocks have been dwindling for decades, which contributed to making it the Global Nature Fund's (GNF) "threatened lake of the year" in 2017.
According to GNF, too many fishers have been chasing a declining stock of fish for decades, threatening the fishery's sustainability.
Reliable recent data are scarce, but the downward trend in fish catches has been visible for years. The number of fishers grew during the 1990s as refugees from regional conflicts came to the area. According to GNF, in the Burundian part of Lake Tanganyika the number of fishers quadrupled from 2,021 to 8,202, and the number of fishing boats more than doubled from 1,408 to 3,236, from 1995 to 2011.
When so many new fishermen swarm into a fishery, the initial impact is higher production, but then output starts to fall as the fish disappear and stocks are not replenished. In the Burundian part of the lake, production fell by a quarter from 20,000 to 15,000 tons between 1995 and 2011, and annual output per fisherman fell from 9.89 tons in 1995 to 1.83 tons in 2011, according to GNF.
Use of prohibited equipment is an important factor in overfishing. A prime example is gill nets, vertical panels of netting that hang from a line with regularly spaced floaters that hold the line on the surface of the water. These nets trap young fish before they have a chance to reproduce, thereby threatening the fishery's future. According to academic studies, one kilogram of young fish translates to one ton of adult fish – if the small fry are allowed to live. Although the use of gill nets is banned, enforcement is lax.
Climate change is another major reason for the dwindling fish catch. "Warming has intensified the stratification of the water column, thereby trapping nutrients in deep water where they cannot fuel primary production and food webs," says a 2016 study of Lake Tanganyika fisheries led by University of Arizona Professor Andrew S. Cohen and published by the US National Academy of sciences.
Water pollution poses a further problem. Tributary rivers and streams feeding Lake Tanganyika deposit untreated waste from the economic capital Bujumbura, further damaging fish habitats.
Fishers say that modern rechargeable lamps make it more difficult to catch the fish that remain. Modern lamps illuminate to a depth of four meters, compared to 75 to 200 meters for old-style oil lamps, but the oil lamps face high import duties, says Jean Bosco Ndabazaniye, a fisherman on Lake Tanganyika.
Today only small fish such as mukeke (a species of perch) and ndagala (a sardine-like fish) can be caught, he adds.
As fish catches dwindle, their price rises out of the reach of many consumers. "The consumption of fish becomes a luxury even in Bujumbura," Ndabazaniye says. "We used to be able to sell ten boxes of mukeke but that's no longer the case. I can no longer buy clothes and shoes for my wife and children."

Further reading
Global Nature Fund: Threatened lake of the year 2017: Lake Tanganyika.
https://www.globalnature.org/en/threatened-lake-2017

Mireille Kanyange is a journalist for Radio Isanganiro in Burundi.
mika.kanyange@gmail.com