Food security
Female farmers need more support in Ghana
Ghanaian women play a crucial role in agriculture, growing the largest share of food for the population of over 30 million people in the West African country. Their contributions are essential for ensuring food security and nutrition, but they often face systemic challenges.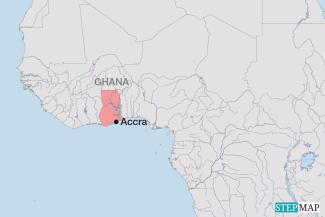 Stepmap
Most women in Ghana work in agriculture. They are smallholder farmers who cultivate a variety of food crops, including cassava, yam, groundnut, millet, rice, maize, cocoyam, garden eggs, okra and plantain. Their activities make a significant contribution to creating employment opportunities for young people without work, especially girls, but this crucial role in building the economy is often neglected or unrecognised.
Females have fewer opportunities to get and own land and when they do, they are often given smaller parcels of land than their male peers. The gender gap in access to financial resources is also large, and access to information and the advantages of extension services and training is frequently out of reach for women due to low asset ownership, lower literacy rates, a lack of political voice and social norms.
Adjoa Kwei, a maize and cassava farmer in Noka, expressed her frustration with the obstacles faced in agriculture: "Although smallholder women farmers in Ghana cultivate crops for both household sustenance and commercial purposes, we are overlooked when it comes to the allocation of agricultural resources." She pleaded with the government to supply subsidies and farm inputs such as fertilisers and pesticides to female farmers and make arable land accessible to them.
Kwaku Adjei Asong, also a farmer, is concerned about women's empowerment in agriculture and firmly believes that women should be given land, finances and inputs to expand their agricultural involvement and family output.
Recent efforts have been made to remove these barriers, such as USAID's initiatives to scale up agricultural investments by smallholder farmers. Over 25,000 agribusinesses have received a substantial financial boost, with a total support package exceeding $ 192.9 million. This contribution enhances agricultural productivity and contributes to the improvement of food security in Ghana.
Despite the efforts made, much work remains to be done to increase gender awareness and invest in awareness to destroy existing prejudices that hurt attempts to mainstream gender equality. Ghana's Minister of Gender, Children and Social Protection, Lariba Zuweira Abudu, urges financial institutions to support women in agribusiness by providing them with improved seeds, fertiliser, agricultural technology, processing equipment and other essential farming resources.
Empowering females in agriculture may boost their efficiency, raise agricultural output, improve their quality of life and contribute to long-term sustainable development.
Dasmani Laary is a journalist in Ghana.
laarygna@gmail.com