Labour market
Brain drain in Ghana's tech industry
Ghana's IT sector offers comparatively attractive jobs and draws in ambitious, flexible young people. Competition for highly qualified talent is not only raging between domestic firms, but also increasingly on the global, digitised labour market.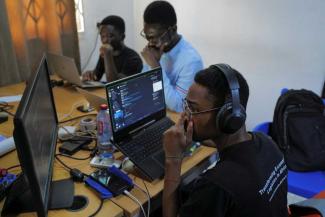 picture-alliance/REUTERS/Francis Kokoroko
The situation on the Ghanaian labour market is difficult for young people. The global economic crisis did not spare Ghana: the country's rate of inflation over the summer was over 30 %. Unemployment is high among young people and university graduates (see box).
Within the relatively small group of formally employed young people, many begin to look for new jobs immediately after being hired. Because of the large number of applicants for individual jobs, many people also accept positions with less-than-ideal pay, duties and working conditions. The position that is ultimately obtained is therefore by no means perceived as a guarantee for a fulfilling life and stable employment. Why is that? This question is being addressed by a research project situated since May 2020 at the Institute for Sociology at Leipzig University, Germany. The project is receiving funding from Germany's Federal Ministry of Economic Cooperation and Development (BMZ).
The digital technologies sector presents a particularly good opportunity to study the dynamics of job switching. For several years, Ghanaian firms have been trying to copy India's formula for successfully establishing a digital service industry. One such company, which we will call "Tiger Comp" to preserve its anonymity, was founded in 2019 and as of 2022 had created 200 jobs in Ghana and another African country. Tiger Comp offers young university graduates a six-month training programme in fields like software development, software testing and data analysis. After finishing the programme, trainees should receive a position and complete assignments for clients around the world.
A great deal of autonomy
In August 2022 we interviewed around 20 employees of this company, which is located in a medium-sized Ghanaian city. We asked them about their family backgrounds, their experiences during their training and job search and about their wishes and goals. Almost all of the respondents were unmarried, single and had a great deal of autonomy with regard to how they led their lives. They were free from local family ties, which allowed them to easily move to the medium-sized city from various regions. This independence persisted during their time at the company as well. Because their self-image was rooted in autonomy and personal success, they had a positive attitude towards a prolonged search for better jobs with quicker paths to promotion, higher base salaries and more lavish perks than those offered by Tiger Comp. This attitude also increased interviewees' willingness to move to the next city for the next job, for instance to Accra and Kumasi, the largest centres, or even abroad.
The demand for well-educated specialists in the IT sector is high. In fact, training companies like Tiger Comp are to some extent victims of their own success. Occasionally, trainees quickly receive offers that pay two to three times their salary. The leadership of Tiger Comp therefore sees the recruitment of the best minds in the industry as a serious problem. The Covid-19 pandemic exacerbated this tendency. Our research revealed that European and American firms are also increasingly awarding contracts directly to IT specialists in low-income countries – not just to companies like Tiger Comp, but also to independent contractors who work in a Ghanaian home office.
Competition on two labour markets
Firms like Tiger Comp are therefore competing for the best minds on two labour markets at once: the Ghanaian market on the one hand, and the global, borderless, digitised market on the other. The low cost of labour of Ghanaian companies – which is actually one of their advantages – also has a dark side: the firms simply cannot pay the wages offered by their western competitors. On the other hand, Ghanaian IT specialists who are employed abroad gain access to sources of income that can help thrive the domestic economy.
Although the employees of Tiger Comp repeatedly cited better earning opportunities as their central motivation to switch jobs, other factors also played a role. The working environment, for example, was occasionally seen as negative. On the other hand, the opportunity to have further training financed is a reason to stay put.
IT specialists in no way value risk-taking and professional flexibility for their own sakes. They are striving for a certain permanence in their professional lives, as long as it does not interfere with other goals, like financial stability. That also includes supporting relatives, who may have financed the education of the interviewees in the past.
In principle, IT specialists are privileged with regard to employment and advancement opportunities among working people in Ghana, for example when compared to the textile industry. In a textile factory we studied, employees earn only a fraction of the IT specialists' wages. Their incomes are aligned with Ghana's minimum wage, and they can hardly cover the costs of rent, transportation and food. Nevertheless, in 2022, none of the approximately 90 employees left the company of their own accord. Many told us that they wanted better-paying work, but had been unable to find it.
Marian Burchardt is a professor at the Institute for Sociology at Leipzig University and director of the research project presented here.
marian.burchardt@uni-leipzig.de
Florian Stoll has a postdoc position at the Institute for Sociology/Research Center Global Dynamics at Leipzig University and researches the reasons for job changes in Ghana as part of the project presented here.
florian.stoll@uni-leipzig.de