Summer Special
Tribute to a murdered king
An exhibition in Hamburg on the German colonial period in Cameroon addresses issues of resistance, racism and the culture of remembrance. This item is the seventh in this year's summer special with reviews of artists' works with developmental relevance.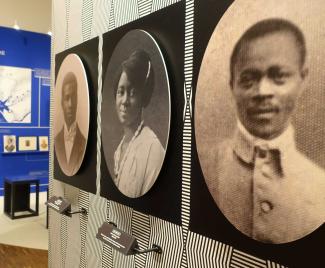 Anke Schwarzer
A large-format graphic novel stretches along the walls, winding past contracts and correspondence, old portrait photographs and new artworks. It encircles wooden "tange" – canoe prow ornaments made by Cameroon's coastal communities – and a "kaba", a Ngondo festival dress owned by Queen Mother Delphine Douala Bell. The special exhibition "Hey Hamburg, kennst Du Duala Manga Bell?" ("Hey Hamburg, do you know Duala Manga Bell?") at the Museum am Rothenbaum – Kulturen und Künste der Welt (MARKK) focuses on the German colonial period in Cameroon.
"To my knowledge, this exhibition is the first major public tribute in Germany to the Cameroonian King Rudolf Douala Manga Bell," said Princess Marilyn Douala Bell when she attended the opening of the exhibition in April by video link. The great-granddaughter of Rudolf Duala Manga Bell sees the current exhibition, which will also be hosted in Cameroon, as a potential bridge for dialogue.
And dialogue between Hamburg and Douala is important. Douala is the largest city in Cameroon and is named after the Duala people. Designed as a place for young people and families, the show also aims to have a cross-generational impact. MARKK director Barbara Plankensteiner says: "In the past, our children's programmes in particular have promoted exotic notions of other cultures." Given that little time is devoted to the subject of colonialism in schools, she adds, it is particularly important to present it in a way that makes it accessible for youngsters from the age of ten.
Activity areas encourage visitors to participate and reflect. A spotlight is trained on works by young Hamburg artists between the ages of 18 and 27. Among them is an installation by Laurel Chokoago showing a deformed plastic chair with the crossed-out title "A Seat At The Table", illustrating the importance of getting – or not getting – a seat at the table where decisions are made.
Many-faceted objects and historical documents tell the story – largely forgotten in Germany – of the young King Rudolf Duala Manga Bell. He came from a merchant dynasty – one that was involved in slave-trading up to 1840 but later became wealthy mainly by trading in palm fruits. Palm oil was a valuable commodity in the times of European industrialisation. In 1884, leading representatives of the Duala, Rudolf Duala Manga Bell's grandfather among them, signed a treaty with their German trading partners. But the Germans did not abide by the agreement for long. In 1892, leading Duala raised complaints of unequal treatment and beatings. To no avail. A few years later, the German Colonial Army embarked on wars of conquest.
Even a delegation to Berlin, which included Rudolf Duala Manga Bell, failed to make matters any better. Indeed, even worse was to come. On 8 August 1914, Manga Bell and other resistance fighters were executed by German colonial officials. At the end of the graphic novel by Karo Akpokiere, a Nigerian artist living in Hamburg, Manga Bell says: "You are hanging innocent blood. You kill me in vain."
Other central figures of the exhibition are Adolf Ngoso Din, who was hanged by the Germans in 1914 along with Manga Bell and Maria Mandessi Bell, Din's fiancée, who spent part of her school years living with a pastor's family in Germany.
The exhibition makes an important contribution to the debate about Hamburg's colonial past. As a former ethnological museum, the MARKK is closely linked to colonial expansion. The special exhibition thus focuses not only on the colonial activities of the Hamburg entrepreneurs Woermann, Jantzen and Thormählen, who made fortunes from ivory, rubber, palm oil and cacao. It also displays objects that were acquired by merchants under dubious circumstances in Cameroon and then donated or sold to the museum. One such exhibit is a carved ceremonial staff.
The show is suffused with questions of provenance, authorship and the restitution of objects from colonial times. It also raises the issue of the long-overdue rehabilitation of Rudolf Duala Manga Bell. The charge brought against him at the time was high treason. Yet no evidence that he was guilty of such a crime has ever emerged. Even so, this chapter of colonial history has still not been reappraised in Germany.
"Hey Hamburg! Do you know Duala Manga Bell?" works on many important levels. The exhibition is wide-ranging and sometimes feels very dense, almost as if it seeks to deal with every long-forgotten, romanticised aspect of colonial violence at once. Nevertheless, precisely because of the persistence of ignorance, it is no easy task to paint a decolonial picture of the history and consequences of the German colonial period in Cameroon. Created in collaboration with international partners from the worlds of academia, art and civil society, the exhibition will run until the end of 2022, when it will then move to Cameroon.

Exhibition
Hey Hamburg, do you know Duala Manga Bell? 14 April 2021 – 31 December 2022. Museum am Rothenbaum – Kulturen und Künste der Welt.
https://markk-hamburg.de/en/ausstellungen/hey-hamburg-3/

Anke Schwarzer is a free-lance editor and lectures on history and politics in adult education.
hallo@ankeschwarzer.com