High-Level Panel report
New partnership
By 2030, extreme poverty and hunger will be eradicated and development will have become environmentally sustainable. That is the vision of the High-Level Panel of Eminent Persons appointed by UN Secretary-General Ban Ki-moon. The Panel recently published its recommendations for the post-2015 agenda.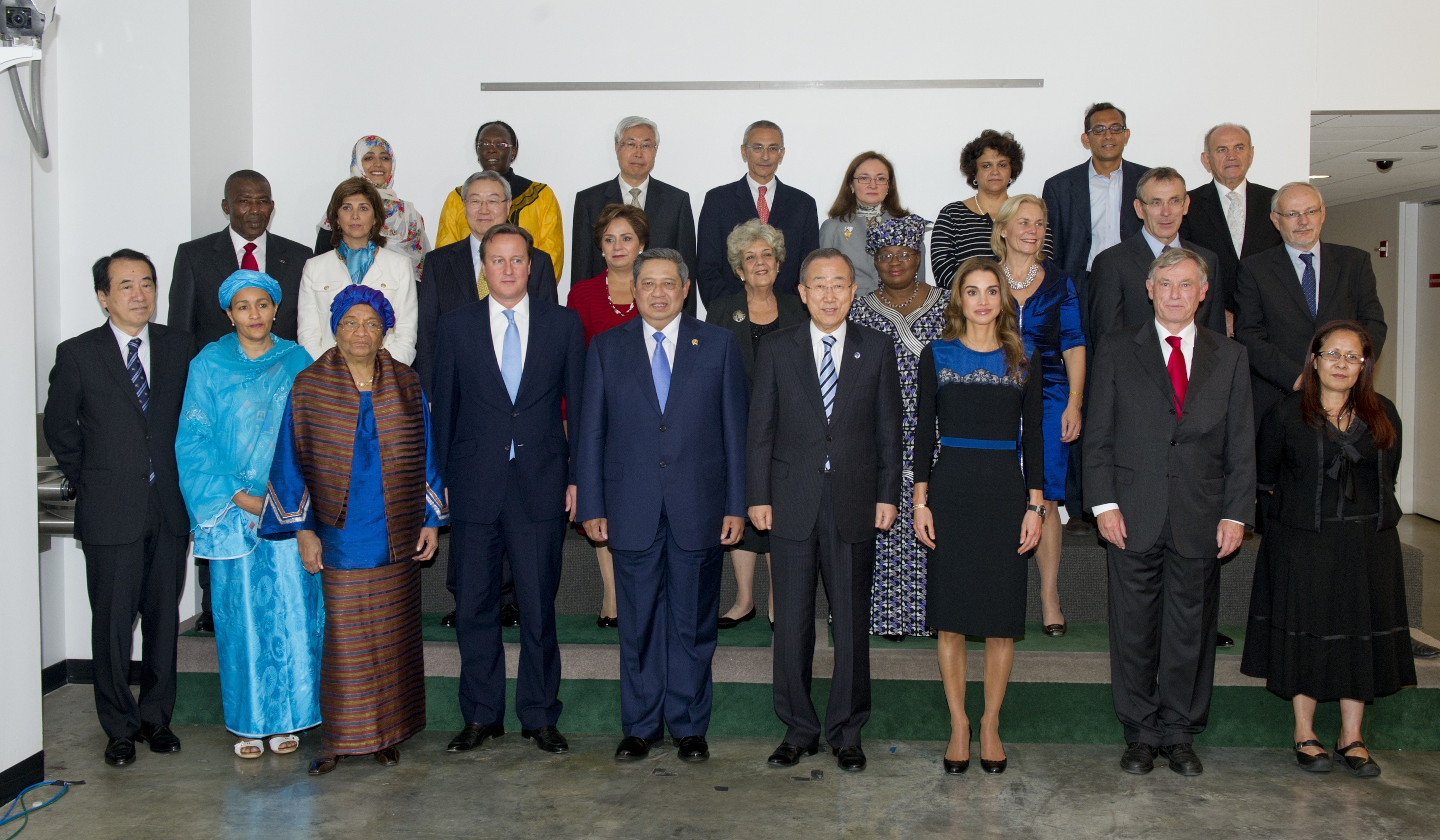 UN-Foto/Eskinder Debebe
The international community has eagerly awaited the proposals of the High-Level Panel (HLP – see photo) for the agenda beyond the Millennium Development Goals (MDGs). Its core recommendation to the UN Secretary-General is to define a new global agenda geared both to eradicating poverty and to delivering on the promise of sustainable development. The HLP does not favour a separate agenda for sustainable development goals (SDGs).  This view is not only shared by  many German development experts (see Dirk Niebel in D+C/E+Z 2013/04, p. 166 f.), but also by the Sustainable Development Solutions Network (see p. 295 f. in this issue), which was set up to make proposals on SDGs after the Rio+20 conference last year.  

The HLP believes the future agenda should build on the positive aspects of the MDGs and carry them forward. It wants the focus to become wider. The agenda should not just concern developing countries, but the whole world. This approach is welcomed by non-governmental organisations (NGOs). To achieve sustainable patterns of consumption, for example, lifestyle changes need to be made in highly developed countries.

The title of the report is: "A new global partnership: eradicate poverty and transform economies through sustainable development". It offers basis for a binding multilateral agenda to be adopted by the UN General Assembly in the next two years. The HLP speaks of "five transformative shifts" that should guide action. The first is based on the concept of universal equality. No one should be denied human rights, regardless of age, gender, race, nationality or disability, and everyone is entitled to a livelihood. Poverty – the report says – should not just be reduced; it must be eliminated by 2030.

The second guideline focuses on sustainable development and stopping climate change. New technologies should be harnessed to reduce unsustainable consumption. The rich countries have a pioneering role to play.

The third transformative shift is making economic growth inclusive in the sense of all people benefitting. The creation of employment, especially for women and young people, is deemed crucial to the goal of ending poverty and providing good livelihoods for all.

The fourth shift does not figure in the MDGs so far. It concerns the promotion of peace, good governance and dependable institutions for all citizens of all countries. The HLP sees this as a prime requirement for prosperous, contented societies.  

Rounding off the recommendations is the fifth guideline, the call for a new global partnership. Essentially, this is an appeal for coherent multilateral decision-making and strict enforcement of rules to promot the four other shifts. Relevant policy areas include of fair trade, environmental protection, security and other global challenges.
From vision to action

The HLP points out that successful implementation of these programmatic principles will depend on how they are translated into priorities and tangible action. For this reason, it offers a list of 12 goals (see box) – four more than the MDGs.  

Fifty-four targets – four or five for each goal – provide a roadmap for translating the goals into concrete,  measurable action. The HLP wants equality of opportunity for women, for example, to be achieved in the sense of preventing and ending violence against women and stopping child marriage. Good governance and sound institutions should be achieved by ensuring freedom of expression and freedom of the press. The High-Level Panel does not set quantified  targets such as raising the number of vaccinated children by a specified factor. However, it does suggest measurable indicators that countries could use.

The HLP believes the new agenda should enable  every country to pursue the suggested goals at its own pace. One important lesson learnt from the MDGs, the eminent persons point out, is that global targets are not effectively executed unless they are nationally and locally owned. Implementation should therefore be guided by national action plans, with every government can taking account of its individual starting point, capacities and resources. In the next step, governments should involve local players – from municipalities, villages, communities and provinces – in defining what is to be achieved in the various target areas.

Like the MDGs, the new goals would not be legally binding. Fair institutions and enforceable rights are considered national-level targets. However, the HLP calls for independent and rigorous monitoring at the highest political level. A UN-led initiative would thus  gather and analyse all country data, making visible the progress made by countries.  

The HLP sees an opportunity for a "data revolution for sustainable development" in the post-2015 process. At present, statistics are gathered separately by various stakeholders, such as international organisations, national statistical offices and the private sector. The HLP wants them all to join forces in a "global partnership on development data". Such a partnership would develop a global strategy to fill knowledge gaps, expand data accessibility and collate results internationally.

The members of the High-Level-Panel are: Emilia Pires (Timor-Leste), Horst Köhler (Germany), Queen Rania of Jordan, Susilo Bambang Yudhoyono (president of Indonesia, one of three co-chairs), David Cameron (British prime minister, co-chair), Ellen Johnson Sirleaf (president of Liberia, co-chair) Amina J. Mohammed (ex officio), Naoto Kan (Japan), Jean-Michel Severino (France), Andris Piebalgs (Latvia), Gunilla Carlsson (Sweden), Ngozi Okonjo-Iweala (Nigeria), Gisela Alonso (Cuba), Patricia Espinosa (Mexico), Sung-Hwan Kim (Republic of Korea), Maria Angela Holguin (Colombia), Fulbert Gero Amoussouga (Benin), Kadir Topbas (Turkey), Abhijit Banerjee (India), Izabella Teixeira (Brazil), Elvira Nabiullina (Russian Federation), John Podesta (USA), Yingfan Wang (China), Betty Maina (Kenya), Tawakel Karman (Yemen), Paul Polman (Netherlands) and Graça Machel (South Africa).
Sabine Balk is member of the editorial team of E+Z/D+C.
euz.editor@fs-medien.de