Authoritarian rule
Stick to principles
For human-rights defenders in Iran, the situation has deteriorated since the 2015 "nuclear deal", in which the USA, Germany, France, Britain, Russia and China agreed to lift some economic sanctions if Iran limited its nuclear programme. The regime must now be held accountable for observing the human rights treaties it has signed. Companies that do business in Iran should pay attention to these matters, argues Amnesty International (AI).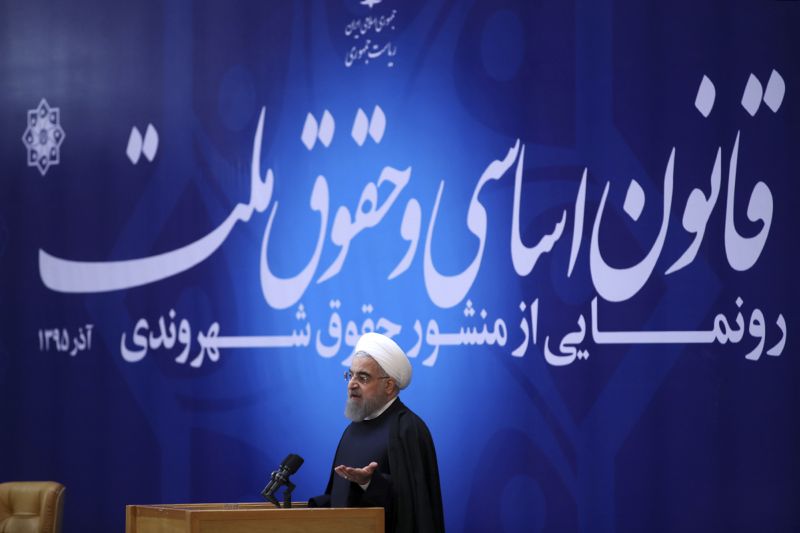 picture-alliance/AP Photo
Last year, authorities in Iran "intensified their repression of human-rights defenders", according to a report recently launched by AI. Arrests of peaceful demonstrators and unfair trials by Iran's Revolutionary Courts are increasingly justified on national security grounds. In addition, detainees are tortured, and there were hundreds of executions in 2016. AI also points out that the regime fails to prevent violence and discrimination towards women, religious and ethnic minorities. Making matters worse, Iranian courts increasingly regard that criticism of the country's human-rights record and related communication with the UN and other international agencies as criminal activism. 
Human-rights defenders fear the so-called "nuclear deal" is giving Iran carte blanche to ignore its responsibilities under international law. Iran has signed several relevant agreements, including the International Covenant on Civil and Political Rights and the Convention on the Rights of the Child.
With sanctions lifted, the country can now pursue deals that give it access to much-needed goods and technology, guaranteeing hefty exports and profits for trading partners. René Wildangel of AI, however, says that "renewed relations should be used as an opportunity to improve the human-rights situation." He wants western governments to put pressure on Iran in regard to human rights. "There should be a certain conditionality in extending and deepening economic ties." He is in favour of parliamentary delegations from Germany and other European countries demanding to see political prisoners, for example.
Ali Fathollah-Nejad, who is associated with both the German Council on Foreign Relations (DGAP) and the Harvard Kennedy School similarly believes that western countries have leverage: "Iranian elites are very much aware that they need the west  because the west has a comparative advantage: technology and know-how."
Iran's regime is well aware of other authoritarian regimes doing business with the west without serious consequences for flouting human rights, however. Fathollah-Nejad wants the west to "think creatively about the means of influencing human rights and civil society in Iran". Conditionality in business dealings could make sense. At the same time, he warns that it would be a huge mistake to return to the crippling sanctions of the early 2000s, because such a stance would only boost the influence of Iran's hardliners. US President Donald Trump has threatened to reverse the nuclear deal.
In Fatollah-Nejad's eyes, western governments' approach to Iran is guided by a misleading "paradigm of authoritarian stability", a pattern he says is common around the world. He warns that support for dictatorships does not lead to long-term stability, as was "forcefully shown by the Arab Spring". Compounding matters, cooperation with authoritarian regimes tends to only benefit a small group of elites. 
According to an analysis done by the news agency Reuters, Iran's hardliners have indeed been the greatest beneficiaries of resurging trade. Of 110 agreements valued at around $ 80 billion, 90 were with state-owned or state-controlled companies. Even Supreme Leader Ayatollah Chamenei was involved in some deals, Reuters reports.
Iran-observers do not expect the human-rights situation to improve in Iran in the run-up to the presidential election in May. Hassan Rouhani, the incumbent head of state, is running again, and hardliners will attack him, arguing that he is weak and the nuclear deal has not paid off for masses of Iranians. At the same time, observers find western trends towards populist leadership alarming – especially in the USA. Experts agree that it makes the situation of human-rights activists more difficult in countries under authoritarian rule if the west is seen to neglect its own democratic principles.

Link
Amnesty International Annual Report on Iran:
https://www.amnesty.org/en/countries/middle-east-and-north-africa/iran/report-iran/