Refugee camps
Infrastructure reflects status
Refugee camps are established as a temporary solution – to accommodate refugees until they can return home. In reality, however, they often remain in place for years or even decades and sometimes even become formal urban settlements. Examples can be found in Lebanon. Since the original camps were not meant to be permanent, their infrastructure no longer meets current needs. But there are also examples of things being ­handled in a better way, and the key is social inclusion of the newly arrived.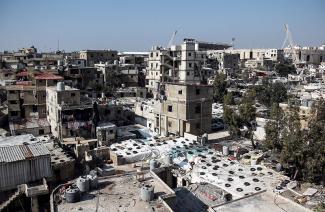 picture-alliance/Valery Sharifulin/TASS/dpa
Burj Hammoud is a municipality in the sprawling conurbation of Greater Beirut. Located to the north of the Lebanese capital, it is an example of how a neighbourhood founded by refugees can develop. The majority of its inhabitants are Armenian, descending from people who were displaced by the Turks in the early 20th century. Thousands were deported from their homeland and expelled to neighbouring countries. That is what happened to 68-year-old Arpi Mangassarian's grandparents, who escaped the genocide by fleeing to Lebanon. Mangassarian has observed and closely monitored the development of her neighbourhood – both as a resident and an urban planner.
Mangassarian explains that some of the Armenian refugees who reached what is now Lebanese territory initially found shelter at Karantina, a refugee camp near the port of Beirut that no longer exists. Other refugees, on the orders of the ruling French mandatory authorities, were accommodated at Burj Hammoud, which was a wasteland at the time.
Many remained there. In the 1930s, Armenians began to buy land in Burj Hammoud and build modest homes on it. "Some plots had an area of just 40 or 35 square metres," Mangassarian says. On larger plots, up to 100 square metres, several houses would be built. "Most homes consisted of only two rooms: one for living in, the other a workshop."
The refugees began to put down roots and build a new life. In 1924, they were granted Lebanese citizenship. The Armenian quarter became a major centre for leather and craft workshops. However, Mangassarian has seen the 1930s and 1940s planning fall behind living standards: "Some residents feel the apartments are too small and they complain there is not enough parking. They are moving out of the area."
The streets of Burj Hammoud are narrow. The small, two-storey houses are densely packed together. Thanks to wide access roads and a two-lane urban motorway built in the 1990s, however, the area's people enjoy good connections to Beirut. That reflects how well the Armenian community has become integrated in Lebanese society. And as soon as a property in Burj Hammoud falls vacant, new occupants move in. The place is a magnet for today's refugees – people fleeing the war in Syria and migrant workers looking for low-cost accommodation.

Poorly equipped Palestinian camps
Palestinians are far less well integrated in Lebanon than Armenians. They were displaced when the state of Israel was founded in 1948. Some sought refuge in Lebanon, where camps were set up all over the country by international organisations. The lack of integration is clearly visible in the refugee camps, three of which now exist in Beirut.
One is Shatila, in the south of the city, flanking the urban motorway to the airport. There is no gate or checkpoint marking a boundary between the camp and the surrounding area. But anyone travelling between the two cannot fail to spot the difference. Political symbols, such as the Palestinian flag or images of Palestinian political leaders, send out a clear message that Shatila was not made for Lebanese people. So does the grim infrastructure.
Shatila opened in 1949 and was designed to accommodate around 3,000 refugees. Today, far more people are crowded into the same area – mostly Palestinians but also Syrian refugees and migrant workers. There are no precise population figures. The neighbourhood grows vertically. People build new floors onto fragile-looking houses. The streets are narrow, only pedestrians and motorcycles can pass. Sunlight barely penetrates. There is no functioning sewer system. A damp putrid smell hangs in the air. Dangling power cables are a ubi­quitous sight and water drips from leaking overground pipes. Shatila long ago became a slum, one of the poorest areas in Beirut.
The situation reflects the status of Palestinian refugees and their recent history in Lebanon (see my article in D+C/E+Z e-Paper 2019/04, Focus section). Although they have been in the country for more than 60 years, they have only limited access to Lebanese educational institutions and the job market. They are also subject to discriminatory laws, such as those restricting access to social security and prohibiting land ownership. Naturalisation is a taboo issue.
The camps are administered by the Palestinian political factions. UNRWA (United Nations Relief and Works Agency for Palestine Refugees) is responsible for education and health care but has been struggling for years with declining funding. The Lebanese government sees Shatila and the other Palestinian camps as temporary institutions. They are located on Lebanese soil but treated as extraterritorial. The Lebanese state is present only when security issues are at stake.
What all current and former refugee camps have in common is traffic jams on the access roads. People in Beirut mostly move about in private cars. About one half of the household owns one car, and about one quarter even has two. They are used even for short distances. Public transport is underdeveloped and based on taxis, share taxis and minibuses, which serve standardised routes. Private ownership is dominant.
After the Civil War, which lasted from 1975 to 1990, efforts were made to rebuild Beirut's centre, but serious traffic planning was never been done. Neither public transport nor the street network have been expanded. The rehabilitation of the railway system, which was set up in the 19th century and discontinued in the mid-1970s, got stuck in planning stages and never took off.

Mona Naggar is a journalist and media coach. She lives in Beirut, Lebanon.
mona.naggar@googlemail.com