Human rights
Humanity or barbarism
Ursula von der Leyen, the president of the European Commission, recently thanked Greece for serving as Europe's protective shield. Who was threatening Europe? Alien armies? The new coronavirus? No, von der Leyen was speaking of desperate, but unarmed refugees, most of whom escaped Syria's civil war and wanted to cross the Turkish-Greek border. However, Greece is not admitting asylum-seekers.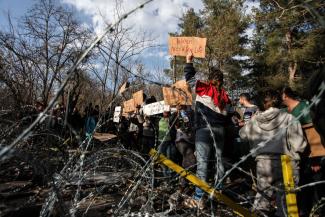 picture-alliance/abaca
Syria is witnessing a dreadful new phase of bloodshed in the strife that set in in 2011. The regime of President Bashar al-Assad has been bombing the city and region of Idlib, the last rebel stronghold. It is close to the Turkish border, and Turkey's President Recep Tayyip Erdogan supports the rebels. He feels let down by the EU and NATO, but he actually failed to coordinate his Syria policy with them. For a while, he teamed up with Assad-supporting Russia. In regard to Idlib, however, he is now on the side of those Russia is attacking.
To put pressure on the EU, Erdogan made refugees in his country believe they could move on to Europe. That was only true in the sense of Turkey allowing them to leave. The context is complicated. According to the UN Refugee Agency UNHCR, Turkey has taken in some 3.6 million Syrian refugees, more than any other country on earth and many more than all EU nations combined. The EU struck a deal with him, pledging monetary support in exchange for Turkey not letting refugees move on to Europe. Whether Turkey deserves more money, is amongst other details a matter of debate.
EU leaders fear that migration to the EU will further boost anti-democratic and racist populism. For this reason, the EU applauds Greece's harsh stance. The border scenario is violent and cruel. Witnesses report of defenceless men, women and children being tear-gased and even shot at by Greek security forces. By mid-March, at least one person had been killed. The Coast Guard was firing warning shots and did not let migrants in rubber boats land on Greek islands. Due to the rampant coronavirus, the EU borders have been completely shut since 17 March.
When this e-Paper was being finalised in late March, some 10,000 to 20,000 people were stuck in the no-man's land between Greece and Turkey. They lacked shelter and provisions. It is scary to consider what impact Covid-19 may have on them. Matters looked similarly desperate in Greece's overcrowded refugee camps. Doctors without Borders, the international non-governmental organisation, demanded that the camps be dissolved immediately in view of the virus threat as things would otherwise spin out of control.
To stay credible, the EU must live up to the principles it endorses and uses to judge others. One of those principles is the human right of asylum. The EU is therefore guilty of a scandalous dereliction of duty. People who cannot live in safety in their home country are being locked out at the Greek border. In Africa, Asia, but also in Europe itself, citizens wonder to what extent the EU really takes human rights seriously.
In public discourse, European policymakers are caving in to right-wing populists. This approach is irresponsible and destructive. Research shows that migration cannot really be stopped. When people leave their homes to escape bombs or natural disasters or because they no longer find any prospects, nothing will stop them in the long run. Fences and violent action can only be effective for a rather limited time. The use of force along Greek's border is a breach of humanitarian principles.
European leaders have a point when they say they refuse to be blackmailed by Erdogan. The sad truth, however, is that they are helping him politically in Turkey by turning refugees away. The more the EU's credibility is eroded, the less convincing Erdogan's domestic opponents, who insist on democratic norms, appear in the eyes of their compatriots.

Sabine Balk is member of the editorial team of D+C Development and Cooperation / E+Z Entwicklung und Zusammenarbeit.
euz.editor@dandc.eu