Climate protection
Preparing for action
The participation of indigenous peoples is considered an important feature of any internationally funded scheme to protect forests. Latin American forests are home to some 40 million indigenous people. Bolivia and Ecuador are positioning themselves as defenders of indigenous rights and environmental protection. Bolivia's model of involving indigenous communities looks more promising.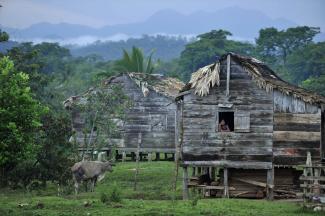 Ringhofer
Some 60 million indigenous peoples live in the world's rainforests, and 40 million of them are in Latin America. Another 350 million people all over the world live in, or next to, dense forests and rely on them for subsistence or income. To protect forests effectively, the rights and interests of all forest-dependent people must be ensured. Their concerns did not get much attention in the early days of the global climate debate, but their cause is now gaining momentum. Issues such as land tenure, forest governance, community management, participation in public matters and the rights of indig­enous peoples have moved up on the international agenda.

Forest protection is a global public good, as most governments agree. Since climate change is a global threat, steps to mitigate the phenomenon serve humankind in general. Forests not only store carbon, they affect the climate in other ways. Intact natural forests, for example, regulate ground water and rainfall. Forests also reduce the impacts of natural disasters. Moreover, forests are the habitat of many rare species, and biodiversity is another global good.

The UN climate summit in Bali in 2007 adopted the concept of REDD – "Reducing Emissions from Deforestation and Forest Degradation". The idea is to halt deforestation in order to mitigate climate change, and developed countries declared they would provide financial incentives for protecting tropical forests in developing countries. Today, the term used is "REDD+", with the "+" standing for incentives for avoiding deforestation in the first place as well as promoting afforestation and rehabili­tation in deforested areas.

Global rules are hard to define, however, and REDD+ governance is a particularly complex issue (see article by Korinna Horta in D+C/E+Z 2013/10, p. 380 ff.). One of the challenges is to make sure that protection efforts in one forest area are not offset by destruction in another one. So far, there is no internationally agreed system for funding REDD+ schemes. However, individual donor governments and multilateral agencies have begun to support pilot schemes in various countries.

Currently, several hundred REDD projects are being implemented in Latin America. The region is a pioneer in testing and implementing Payment for Ecosystem Services (PES) schemes. Costa Rica, Mexico and Brazil are considered most advanced in terms of their 'REDD readiness' (see box next page), but Bolivia and Ecuador have become active too. They are positioning themselves as defenders of indigenous rights and environmental protection.


Constitutional principles

Both countries ratified the ILO Convention 169, which is an important international acknowledgement of indigenous rights. Both countries have also adopted the UN Declaration on the Rights of Indigenous Peoples in national legislation. Moreover, both have recently passed new constitutions, which define the countries as "plurinational". Ecuador's constitution of September 2008 is often referred to as the world's first eco-constitution. It includes mandates for biodiversity protection, climate change mitigation and the regulation of environmental services. It recognises rights of indigenous communities and even nature itself.

Bolivia's constitution of February 2009 particularly emphasises the plurinational character of the state. In principle, traditional law has been put on equal footing as formal legislation (see essay by Peter Strack on p. 34 ff. in this issue). Moreover, the constitution establishes strong state control over natural resources. It guarantees indigenous peoples the right to free, prior and informed consent (FPIC) in regard to the extraction of non-renewable resources in their territories. Furthermore, in 2010, the government adopted a law establishing the "Rights of Mother Earth". This law builds on the indigenous notion of the Earth goddess Pachamama.

While the policy statements are progressive, deforestation rates have been staggering in both countries in the recent past. Accordingly, the governments are under pressure to move fast. Ecuador's 10 million hectares of ecologically valuable primary forests are severely threatened due to the advancing agricultural frontier, shrimp farming and the expansion of monoculture plantations. Bolivia too has one of the world's highest per-capita deforestation rates.

In its National Plan for a Good Life 2009–2013 (Plan Nacional para el Buen Vivir 2009–2013), Ecuador set itself the ambitious target of reducing deforestation by 30 % by the end of 2013. It looks like this target has been met. The Plan also designed a new model of forestry governance. Based on the "Socio Bosque" programme that was launched in 2008, it is considered a future REDD+ mechanism because it provides economic incentives for forest preservation. For the first 50 hectares of land under conservation the incentive paid to the landowner is $ 30 per hectare per year. This decreases to $ 20 and even less if more hectares are registered as conservation area. Accordingly, international REDD+ funding could be made use of in this context.

Bolivia's government officially rejected REDD+ in 2010, stating that a purely market-based approach was too limited. However, the government presented a viable alternative in its own National Strategy on Forests and Climate Change (Estrategia Nacional de Bosque y Cambio Climático) in July 2010. For practical purposes, it too has the potential to serve as a basis for REDD+ implementation in Bolivia. However, the issue of international financing of national REDD+ initiatives in Bolivia is still being debated hotly.


Indigenous peoples' influence

While constitutional law is promising in both countries, Bolivia's approach to involving indigenous communities seems more convincing. The national confederation of indigenous peoples, CIDOB (Confederación de Pueblos Indígenas de Bolivia), has taken an altogether positive stance to REDD+, emphasising the scope for boosting forest conservation to supporting indigenous management of land.

Accordingly, CIDOB has been calling for REDD+ projects in indigenous territories. It has even launched a sub-national indigenous REDD+ programme in the Bolivian Amazon. This pilot model is funded by the Gordon and Betty Moore Foundation, a California-based non-governmental institution, and the Dutch and Danish governments. It is designed to strengthen commercial chestnut and wood production under local surveillance, based on the process of FPIC. CIDOB has also been praised for raising awareness of REDD+ among other indig­enous organisations. Due to internal tensions, however, the organisation split last year and it remains to be seen how Bolivia's indigenous communities will influence policymaking in the future.

Things are even more difficult in Ecuador, where the national indigenous organisation CONAIE (Confederación de Nacionalidades Indígenas del Ecuador) firmly opposes any kind of national REDD+ efforts. The reason is that REDD+ is believed to undermine indigenous control of the forests since the schemes would be based on global rules. Nonetheless, some indigenous communities are actively involved in the state's Socio Bosque incentive programme at the local level.

Ecuador's indigenous movement seems even more fragmented and disperse than Bolivia's. Some of the smaller indigenous organisations are in favour of REDD+ and see its potential for combining forest management and consolidating indigenous rights, while many of the stronger indigenous groups show growing opposition.

The situations in Bolivia and Ecuador differ for two main reasons:
- Unless there are functional platforms that facilitate the interaction of stakeholders at all levels, information cannot be disseminated effectively.
-  Unless there is real political will on all sides, REDD+ schemes cannot succeed.

Thanks to wide-ranging decentralisation efforts and structural reforms in forest management since the 1990s, the institutional setting in Bolivia is quite favourable today. Municipal governments have been empowered, and indigenous civil society is strongly involved in local politics. Moreover, there has been stringent land titling, so more than 12.6 million hectares of land are now recorded as indigenous territories. Such land titling has helped to mobilise substantial funding. CIDOB has been managing about $ 1 million in aid money annually in the past decade.

It also matters that Bolivia's indigenous people – especially in the lowlands – gained some experience with PES schemes in the mid-1990s. The country's renowned Noel Kempff Climate Action Project started operating in 1997 for a period of 30 years in order to convert forest areas adjacent to the Noel Kempff Mercado Park into protected zones. Smaller schemes have been implemented successfully as well.

In Ecuador, the political system so far has not given indigenous communities similar scope for involvement in policymaking. The indigenous movement seems more disperse. Distrust historically marks the relationship between the state and the indigenous movement, and this colonial legacy has been reinforced by recurring conflicts over land.

Officially, one third of Ecuador's national territory – an approximate 6.3 million hectares – belongs to a total of 14 indigenous peoples. None­theless, land ownership remains unclear. Moreover, Ecuador lacks Bolivia's extensive PES experience.


Relevant controversies

In terms of political will, Ecuador's position looks somewhat ambiguous and intransparent. The current government continues to prioritise short-term economic growth based on natural resource extraction over sustainable long-term development. The most striking example is probably to drill for oil in the Yasuní forest after failing to secure donor money as a reward for protecting the region.

Dirk Niebel, who was the minister for economic cooperation and development in Germany's previous government, rejected proposals to fund Yasuní. He was widely regarded to be keeping his distance from Ecuador's left-of-centre government and environmentalist pressure groups, which would have suited his political stance in general. He had a point nonetheless. He said that while funding a full-blown REDD+ programme made sense, it would be wrong to reward "doing nothing".

Indigenous pressure groups like CONAIE criticise Ecuador's government of lacking the political will to really involve local communities in decision-making. CONAIE bemoans the state's unclear information politics on REDD+ issues. Many indigenous people simply do not understand what kinds of grants are available for REDD+. They do not know whether such money is supposed to be an incentive, a compensation, the payment of historic debt, or simply support for individual projects.

Bolivia's strong opposition to REDD+, on the other hand, has been more straightforward – and probably more credible. In line with its leftist and anti-capitalist stance, the government first rejected REDD+ because of its relation to market-based solutions, thereby supporting the fear of many indig­enous stakeholders. At the same time though, it found alternatives which were more in line with the pro-poor and pro-indigenous policies of the government.

Nonetheless, Bolivia is facing difficulties too. Tensions are flaring up. An internationally known example concerns the Tipnis forest, where the government wants to build a highway through a protected area. The local people, including indigenous communities, oppose the project. It is evident that the government, despite its anti-capitalist rhetoric, is keen on spurring economic growth by conventional means. Reforms have empowered local governments and indigenous communities, however, so they can be expected to make a difference.