Democracy
Crisis of legitimacy
Kenya is politically split. On one side is a government awash with brazen impunity, unprecedented judicial intimidation and ruthless bureaucratic vengeance. On the other side is an opposition flirting with civil disobedience, testing the elasticity of the country's laws and plotting a comeback.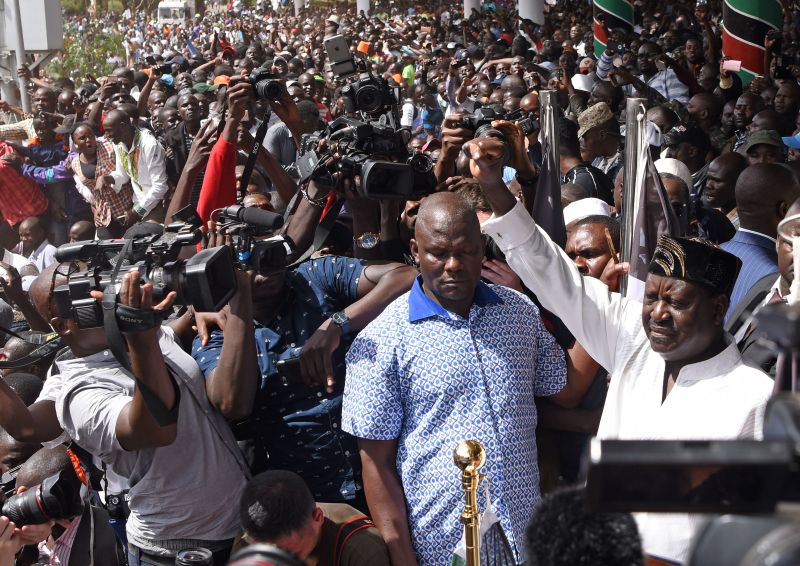 picture-alliance/photoshot
It is easy for academics to wade into the dichotomy of whether the East African country is still a democracy or is now under autocratic rule. The short answer is: it is complicated. The key pillar of any democracy is free, fair and credible elections, and the presidential elections of 8 August 2017 failed that mark. The Supreme Court annulled them because of procedural shortcomings. For several reasons, however, the rerun election on 26 October was unconvincing too:
President Uhuru Kenyatta had used his party's majority in the parliament to change electoral laws.
He publicly intimidated judges.
The electoral commission was split, with one member fleeing to the USA and the chairman arguing for a long time that a free and fair election could not be guaranteed.
One day before the election, the Supreme Court failed to convene sufficient judges, so it could not decide whether they should go ahead or not. Chief Justice David Maraga voted then next day, but that in itself does not lend elections credibility.
The greatest problem, however, is that the opposition boycotted the event. Presidential candidate Raila Odinga had demanded reforms to ensure the elections would be free an fair – to no avail. The polls went on, but they were disrupted by protests in many Odinga strongholds. Data showed that the majority of Kenyans – up to two-thirds of the registered electorate – did not cast their votes.
Kenyatta has since been sworn in for a second term. In narrow legal terms, this was correct. Kenyatta's problem, however, is his lack of legitimacy. He won in an unconvincing race.
In late January, Odinga staged a dramatic protest event, swearing himself in as the "people's president". In formal terms, this step was absurd. In political terms, it was shrewd. The opposition leader managed to cast doubt on Kenyatta and make himself the focus of public attention.
It has become absolutely clear that his supporters will never accept Kenyatta as head of state. They suggest that the low voter turn-out shows that – had the elections been fair and Odinga had run – their leader would have won. This is a claim that cannot be proven, so they too have a legitimacy problem. Given that Kenyatta was set to win because Odinga had dropped out, it is plausible to say that some of Kenyatta's more lukewarm supporters stayed away knowing he would not need their votes. Nonetheless, Kenyatta's government struck back like a wounded buffalo, further undermining its own legitimacy. It temporarily shut down private TV stations. Next, the lawyers who had facilitated Odinga's oath were arrested. One of them was illegally deported to Canada on the grounds that this Kenyan-born man had become a Canadian citizen in the 1980s. The government suspended the passports of various opposition leaders. It has a track-record of displaying authoritarian impulses, and that tendency is becoming ever more evident.
Western governments too have lost legitimacy. The traditional champions of "democracy" in Africa took the middle road of blaming "both sides" and calling for dialogue. In a patronising letter western envoys even asked Odinga to "recognise" Kenyatta as the president. Many Kenyans, however, have not forgotten that the same powers wanted to see Kenyatta tried by the International Criminal Court because of election-related violence in 2007/08. It is well known that the case collapsed because witnesses were intimidated in Kenya. The president, who first promised to cooperate with the ICC, later turned against it.
The stance of western governments does not look principled. One suspects that business interests matter more to them than democratic rule.
All summed up, Kenya now has a legal government without legitimacy and an opposition with legitimate grievances that is resorting to civil disobedience. The media system is in the stranglehold of a regime-leaning business elite, and civil liberties can no longer be taken for granted. How this will end, only time will tell.

Alphonce Shiundu is a Kenyan journalist and fact-checker. He is currently a Chevening Scholar studying Media and Development at the University of Westminster in London.
shiunduonline@gmail.com