Economic development
Revival strategy
Tourism contributes approximately 12 % to Kenya's GDP. 2014 was a challenging year however. In the first three quarters, the sector's revenues declined by almost 15 % according to Kenya's National Bureau of Statistics. In the same period of 2013, the sector had already contracted by almost four percent.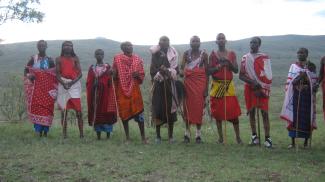 dem
Many Kenyans depend on tourism. Some of them make a lot of money, but the majority do unskilled work that is not paid very well. They are cooks or waiters in restaurants, for example, or cleaning women in hotels. Though tourism generates substantial revenues, poverty still haunts communities in areas with tourist attractions, for instance along the Indian Ocean coast. Sex workers cater to tourists too (see box on "Depressing aspects of tourism"). 
The downturn in tourism affects all persons who depend on this industry, whether they are rich or poor. Following terrorist attacks in Nairobi and coastal towns like Lamu and Mombasa, the governments of countries such as the UK, Italy and Germany advised their citizens to stay away. Many Kenyans feel that security concerns are being exaggerated how­ever. For example, Monicah, a business woman in Mombasa, says: "Security here is okay, but the way it's being discussed in foreign media is killing us."

In less tense times, Kenya was a popular desti­nation for holidays. It is probably most famous for incredible wildlife experiences through safaris, national parks and game reserves. The country has six unique world heritage sites, as defined by UN Educational, Scientific and Cultural Organization (UNESCO):
Fort Jesus in Mombasa,
Lami old town,
Sacred Mijikenda Kaya forests,
the lake system in the Great Rift Valley,
Lake Turkana National Park and
Mount Kenya National Park.
Last year, a value-added tax (VAT) on tourism services was introduced. Accordingly, prices have risen, and a Kenya holiday has become more expensive for foreign travellers. According to the website of the Kenya Tourism Federation (KTF), an umbrella organisation of industry associations, the VAT is a competitive disadvantage in the east African region.The government certainly needs revenues, but it also wants the industry to grow. In May 2014, President Uhuru Kenyatta outlined a new policy to stimulate not only international tourism, but domestic travelling as well. His list included several measures, including the following:
Private-sector companies that pay their staff expenses for vacation trips in Kenya can now deduct those sums from their taxes. This reform is ex­pected to allow about 300,000 Kenyans a year to spend a week of holidays in Kenya and boost hotel occupancy accordingly.
To further encourage local guests in national parks and attract regional as well as international tourists, the park fees have been reduced. Instead of previously $ 90, non-resident visitors must now pay a standard $ 80. The fee for Kenyan travellers has gone down from 1,200 shillings (about $ 13) to 1,000 shillings.
Kenya's 47 counties, a new sub-national level of government, have been ordered to reallocate all their foreign-travel budgets to domestic travels in order to spur growth of domestic tourism and sustain employment. The national government has equally reallocated its travel budgets and has urged the parliament and the judiciary to do so too.
The national government has revoked a rule that restricted public-service agencies from holding conferences and other meetings in private-sector hotels.
Airplane tickets have been exempted from the VAT again.
Landing charges have been reduced by 40 % at Moi International Airport in Mombasa and 10 % at Malindi Airport. Malindi Airport is to be expanded to encourage tourism.
The Kenya Tourism Board is a state corporation that promotes the industry. In cooperation with private-sector partners, it is running the "Why I love Kenya" Campaign. The hash tag for online media is #WhyILoveKEnya. The campaign's mission is to tell stories about Kenya and create a positive image of the destination.

There are gaps in the statistics concerning the industry, as the KTF acknowledges. Therefore, it has initiated a proposal to get World Bank assistance. The KTF wants support for:
establishing the size of the sector in order to accurately assess its contribution to the economy,
setting up a tourism account system to document tourist arrivals and bed nights, as well as
drafting a national directory to list all tourism products and the companies that sell them.
The government has approved the proposal and has set up a technical committee that involves the Tourism Fund and the Tourism Board apart from the KTF.
Whether these measures will lead to new growth in the tourism industry remains to be seen. It is to be hoped that they will prove successful. However, they are not designed to improve the lot of those who work in this sector but barely manage to get along. Policies to accelerate growth should go along with policies to improve livelihoods of local communities, but so far that does not seem to be on the government's radar.
 
Grace Atuhaire is a freelance journalist who covers several east African countries.
graceseb@gmail.com
 
Editor's comment, 12.4.2015: This essay was written in March and published before the terror attack on Garissa University. In retrospect it looks bizarre that the British government had warned there were security issues, wich triggered an angry response by President Kenyatta who accused London of harming the reputation of his country.
Link:
Kenya Tourism Federation:
http://www.ktf.co.ke/news.asp?ID=115