KfW
"A shift in attitude is already underway"
Mobility has become one of the biggest issues of our time. Alternative drive systems and technologies are making us question our existing transport systems. Meanwhile, permanent traffic jams in many cities around the globe are increasing demand for new solutions. In our interview, KfW Senior Vice President Roland Siller explains whether poorer countries can rethink urban transport and how they can go about it. This interview was written for a KfW supplement in D+C/E+Z.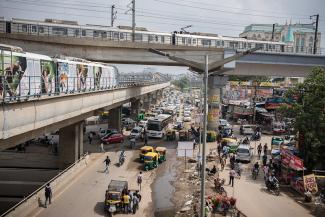 KfW Bankengruppe/Florian Lang
What do you associate with the term sustainable mobility?
I think of traffic that flows without any hold-ups. Transport that is environmentally friendly, convenient, affordable and open to everyone, not just the rich.
Are you talking about cars or public transport?
Both. A transport system has to be set up to move large quantities of people using public transport and then to sync up intelligently with individual forms of transport – ideally environmentally friendly ones like bikes and footpaths, but also energy-efficient cars and, later down the line, electric cars, too.
Here in Germany, we are always talking about new forms of transport: autonomous cars, e-mobility and smart solutions in the form of apps. Are debates like this going on in developing countries, too?
In fact, we are seeing some movement there, too. The psychological strain placed on populations in the growing cities of the south is huge. Take India, for example: according to forecasts, an additional 200 million people will be moving to cities in the next few years. This is related to migration to urban areas on the one hand, and population growth on the other. More people means more traffic, especially as the standard of living starts to rise. Anyone who can afford to will buy their own car – and produce even more traffic. Sitting in traffic jams for several hours has sadly become part of day-to-day life in many cities.
And is that why action is being taken now?
Yes, a shift in attitude is already underway. In India, for instance, every one of the 25 largest cities is due to get its own transport system, some with underground trains, some with suburban railways, depending on their size and the costs of investment.
There is a lot going on in Asia in terms of mobility. In China, for example, large sums are being poured into sustainable mobility. What about other parts of the world?
We are also noticing changes in Latin America. A large number of cities are creating high-speed bus lanes, known as "Bus Rapid Transport systems", suburban railways and underground lines. More unusual forms of transport, like cable cars, are also on the rise, in cities like Medellín (Colombia) for example. This isn't occurring to the same extent in Africa, though awareness of the issue is set to rise quickly there, too. This is a foreseeable trend and also depends on population growth. The number of people living in cities in Africa is expected to triple to around 1.2 billion by 2050.
In Germany, people are saying that the transport revolution is the next energy transition. Does the same apply to developing countries?
Yes, though I would increase the dimension because mobility has major economic impacts, as well as being linked to the environment. The aim therefore can't be to restrict mobility; it is crucial to economic progress. Instead, the goal should be to design environmentally-friendly and intelligent transport and traffic networks.
What is needed to make sure this actually happens?
I believe that good planning is the most important factor. Transport can shape a city's landscape for decades, sometimes even centuries. Take the London underground, for example. It is therefore all the more important to make sure investments of this magnitude are well planned and concepts are developed in integrated systems. This has yet to happen in many cities, but this is what we should be aiming towards.
What is KfW doing to encourage the global transport transition?
We have only really started to get going in this area, too. In the past couple of years, we have really stepped up our commitment, but we want to do a lot more. The German Federal Government created the TUMI Initiative two years ago. The aim of this project is to invest EUR 1 billion in sustainable mobility every year. We are implementing this initiative on behalf of the Federal Government but we are also aware that projects like this have a long lead time.
What are your focus areas?
So far, we have done most of our work in Asia and Latin America, but not much in Africa. This is due to change, but it is the status quo at the moment. We promote adapted solutions, from cycle paths to suburban railways and underground networks.
Does this also include electric mobility beyond from rail traffic?
This is not part of KfW Development Bank's portfolio yet, but we are currently in negotiations concerning a large number of electric buses for India. I predict that more solutions will be added soon. For example, e-bikes with street-scooter-style transport attachments are one feasible solution, along with a range of others. However, the type of drive alone is not the only thing that matters to us. It is also important that a KfW project fits into a sustainable overall system.
In addition to good planning and money, humans themselves are another important factor. They would simply prefer to sit in their own car than on an underground train. How do you change this way of thinking?
This is a challenge indeed. The only way to resolve this issue is to design modern public transport systems. They have to be appealing and offer added value, such as wi-fi, entertainment or working facilities. They need good air conditioning in hot countries, and good heating in cold ones. Train stations and routes to the network need to be attractive, well-lit and safe. Changes like this take time. And so, it is all the more crucial not to lose any more time and give more priority to urban mobility.
This interview was conducted by Friederike Bauer.
Link
KfW supplement in D+C/E+Z
https://www.kfw-entwicklungsbank.de/PDF/Download-Center/PDF-Dokumente-Medienkooperation-mit-E-Z/2018_10_NachhaltigeMobilität_EN.pdf