weltwärts volunteers
"I never dreamed it would get this good"
In Chile, children with disabilities lack educational opportunities and struggle to find jobs later in life. The non-governmental school Corporación Educacional "Sternenkinder" in Los Ángeles, Chile is making a difference. It is supported by Sternenkinder e.V., a German civil-society organisation. Carlos Collio, the principle of the school, told Miriam Keller, a German weltwärts volunteer, about its history and achievements.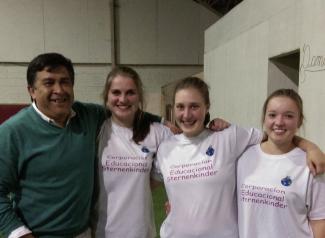 Sternenkinder
Why is your school indispensable for the children you teach?
Because every child has the right to get a proper education, but people with disabilities or difficult social backgrounds cannot take that for granted. There is no such thing as real inclusion policies in Chile – neither in the public nor the private sectors. We do our best to prepare our students to cope with the challenges they face in life and enable them to find jobs eventually.
How do you do so?
First of all, education improves their self-esteem. Moreover, they can learn to make and sell furniture, for example, so there are monetary benefits too. We help them develop the considerable abilities they have, and they learn how to adapt to society. We support every child in his or her needs. Finally, we provide meals to our students, and for some of them, those are the only meals they get on some days. We also offer physical therapy and physical education, so we really improve the quality of their lives.
When and why did you start your work?
My wife, some friends and I founded the school in 1998 with the help of the newly-created German association. The idea was to give children from difficult social backgrounds a chance of education. Education is mostly not free in Chile, and our school is not only meant for the disabled, but also for children from very poor families who cannot afford to pay tuition for expensive schools in the city. Actually, our approach was always quite unusual in Chile and inspired by ideas I got living and working in Germany.
What difficulties did you face?
It was very difficult to set up a school with very little money. We had to take loans, and our debt burden was incredible. We started out with 22 students in three classes, one elementary level and two "talleres laborales", vocational workshops, which were open to teenagers and young adults. We trained them to work as gardeners or carpenters.
How do you fund your work?
Well, after we had built up the school, the government gave us money to run it. The system here is that you receive a certain amount for every student you teach, and with that money, you have to pay everything, including wages, school meals, transport, insurance, textbooks, electric power and so on. We do not get much money from the state, however, so we are lucky to get support from our partner association in Germany. It sends us money for special projects like building a gym or buying a school bus. Currently, we are establishing a café where some of our adults will soon be working. Without the support from Germany we wouldn´t even have 30 % of the facilities we have today.
So you depend on international aid?
No, not really, because we do rely on some state funding, but it is true that our school would be much smaller without international support. If we got even more support, however, we could further expand our work, employ more teachers and improve the quality of the education we offer. Whatever aid we get is welcome, and so are the contributions of volunteer workers. Unfortunately it is easier to find support abroad than in our own country.
Does your government support you beyond the fixed payments you get per student?
Sometimes we can apply for state funding for special projects. Last year, the government paid sports teachers for a physical education programme for example. That was more an exception than the rule however. It is a bit frustrating that people tend to think that we have a lot of money, because they see the big terrain, many employees, the buildings et cetera. Moreover, the school is located in an area where wealthy people live. What they do not see is the hard work behind it all. Every time a month ends, I have to find a way to pay the bills, and we use all the funding we get. It really is a huge effort, but people think the school must be prosperous because it has its own gym and greenhouses and so on.
What is the most serious grievance?
In Chile, there is no awareness of the fact that disabled people are able to work and therefore need legal employment options. The government does not invest in any kind of inclusion policies. Actually, some absurd laws make it difficult to employ people with disabilities in educational facilities, and we cannot even hire them to work in our school.
What has been your greatest success so far?
Oh, many things! For instance, we have our own carpenter´s workshop. One class is also very good at making and marketing felt products. We are able to offer physiotherapy and even horse riding as a therapy. Our students are happy to come to school, because they are accepted here and they can develop their abilities and make them count. The school has grown so much in these 18 years, and it is such a pleasure to work harmonically in a beautiful environment. I never dreamed it would get this good, and I have plans to make it better still. For example, I'd like to add a full-blown furniture factory some day.
And what was the worst experience?
The debts, when we started! So many debts and no end in sight! But they are gone. We've repaid everything.

Carlos Collio is the principal of the Corporación Educacional "Sternenkinder"  in Los Ángeles, Chile.
colegiosternenkinder@yahoo.de
Miriam Keller is a weltwärts volunteer with Sternenkinder. weltwärts is a volunteer programme funded by Germany's Federal Ministry for Economic Cooperation and Development (BMZ) and managed by Engagement Global on its behalf.
keller-miriam-97@web.de