Shared responsibility
Debt relief for poorest countries
Poor countries with heavy debt burdens need debt relief to cope with the Covid-19 crisis. The funding provided by the international community so far is not enough. More is needed than the suspension of debt servicing which public lenders have agreed on.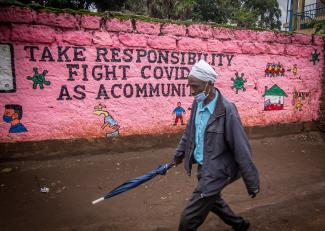 Donwilson Odhiambo/picture-alliance/ZUMA Press
Even before the pandemic started, about half of the world's low-income countries were heavily indebted according to the International Monetary Fund (IMF) and the World Bank. Covid-19 will plunge yet more countries into debt. Left to themselves, they will not be able to cope with the crisis. Their government revenues are plainly too small (see Stefanie Rauscher in Focus section of D+C/E+Z e-Paper 2018/01).
The international community is making substantial funding available – partly concessional, for example, in subsidised loans. The World Bank will hand out financial support worth about $ 160 billion to emerging markets and developing countries in the next 15 months. The IMF's Rapid Credit Facility is providing interest-free credit worth $ 10 billion to low-income countries.
The problem is that these huge sums simply will not do. The countries concerned will still lack liquidity. And the loans – including concessional ones – will further increase their debt burden.
All bilateral public-sector lenders have agreed to the suspension of the poorest countries' debt servicing from May to December 2020. The implication is that in the short run more funds are available to deal with the corona crisis, but repayment is only postponed.
The only solution in this precarious setting is debt relief for developing countries. The IMF has recently reformed the Catastrophe Containment and Relief Trust which serves the purpose of relieving debt-servicing. More countries can now benefit from it at the same time and on short notice. Nonetheless, more extensive debt relief is necessary. For good reason, Gerd Müller, Germany's federal minister for economic cooperation and development, has also advocated debt relief for the poorest countries in his "Emergency Covid-19 support programme" (BMZ 2020).
To ensure that individual creditors do not benefit disproportionately to the detriment of other creditors, all public and private creditors should participate in debt relief equally, and that in turn will require that they all make the conditionalities of their loans publicly transparent (Berensmann 2020). Since debt relief should only be granted to heavily indebted countries, moreover, a maximum debt limit needs to be defined.
We must consider, moreover, that debt relief only heals the symptoms of indebtedness, but does not tackle the underlying reasons. Debt relief must therefore be linked to beneficiaries investing in poverty reduction, infrastructure development and better debt management.
Those who have granted the credits, moreover, must assume responsibility too. One reason many low-income countries are now heavily indebted is that they were given loans at market conditions. Between 2007 and 2016, the share of market-based debt in total public debt doubled. In 2016, it was 46 percent in low-income countries. As debtors and creditors share responsibility for the debt, they also share responsibility for resolving the debt crisis.

Links
Berensmann, K., 2020: How the international financial institutions are responding to the pandemic. Bonn, DIE-GDI
https://www.die-gdi.de/en/the-current-column/article/how-the-international-financial-institutions-are-responding-to-the-pandemic/

BMZ (Federal Ministry for Economic Cooperation and Development), 2020: Corona-Sofortprogramm (Emergency Covid-19 support programme – only available in German).
http://www.bmz.de/de/zentrales_downloadarchiv/Presse/bmz_corona_paket.pdf

Kathrin Berensmann is a senior researcher and project leader at the German development Institute (DIE-GDI).
kathrin.berensmann@die-gdi.de