COP25
Civil unrest: Costs and benefits
The 25th meeting of the UN's climate convention, known as COP25 (Conference of the Parties 25), was originally planned for December 2019 in Santiago, Chile. It was to be known as the "Santiago Climate Change Conference" and was to draw attention to Chile as an environmental leader.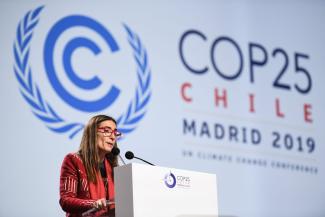 picture-alliance/Photoshot
That didn't happen. Massive civil unrest – related to Chileans' demands for a new constitution and more equitable economic policies – raised security concerns in Santiago. The conference was held in Madrid instead.
Losing the privilege of hosting COP25 on its territory was a blow for Chile. The government had spent about $ 90 million on planning and logistics before the event was moved. And COP25's retreat from Santiago also cost Chile a large measure of political prestige.
But Chile did not walk away from this episode empty-handed. Before the conference was moved, Chile's status as conference host had brought leading global scientists to Santiago to confer with national policy makers. More importantly, the unrest on the streets that chased the conference away also had a positive influence on Chile's environmental policy. The heightened focus on social and environmental justice led to ambitious national commitments on climate change, and to setting an explicit link between climate measures and social justice.