Pastoralism
The Tanzanian Maasai entering industrial age
It started off with a meeting under a tree of the elders of the community, in order to strategise their fight for reclaiming Maasai lands that had been grabbed. Today, the results are several different projects: a milk processing plant, energy and water generating projects as well as a community radio.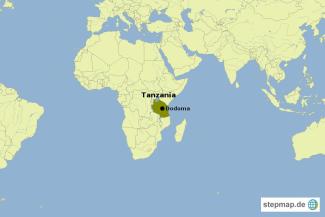 stepmap.de
In Northern Tanzania, Martin Kariongi Ole Sanago founded the Institute for Orkonerei Pastoralists Advancement (IOPA), in order to help pastoralists to sustain their livelihoods. Since 1991, IOPA has been operating in the pastoral lands of northern Tanzania (Arusha, Kilimanjaro and Manyara). The Institute is transforming the Maasai community from traditional pastoralism to professional entrepreneurship.
"The Maasai community produces a lot of milk, and it's the women who handle milk for the household," Sanago explains. "So we had the idea of the milk processing plant where women sell their cows' milk. Now they have money and can buy their children school uniforms as well as other household items."
Today, there are five milk processing plants in five villages, and each can process 1000 to  1500 litres per day. They produce cheese, butter, yogurt and ghee.  This has changed a lot in the lives of the Maasai women and enabled them to establish other businesses like chicken and goat farming, so they earn even more money. The women's success also inspired their husbands, who started to support them by keeping records. Today, families make plans concerning different entrepreneurial set-ups together.
"When the milk processing plant was established, we needed electricity and water in order to run it," Sanago says. "We were able to cut costs when we started producing our own electricity and water. The water borehole in Orkesumet alone provides water to almost 3.8 million livestock and more than 1, 256,000 people."
So far 189 households have been connected with electricity, including schools, health centres and churches. This, in turn, has enabled other small income businesses – like welding – to operate in different communities.
Furthermore, the establishment of the community radio, Terrat Radio, has enabled young Maasai men and women to be at the forefront of the transformation of their society. "Many men hate the radio because they see it as something women turn to," says a radio manager. Indeed, the radio addresses difficult issues like female genital mutilation. Since 2010, IOPA is also running a rehabilitation and rescue centre for women who have experienced domestic violence.
Martin Sanago's advice to anyone establishing a new venture is: if you have an idea, put it into practice and "be prepared to stand alone". He adds: "If you want easy sweet life, you will not be able to make a change."
Grace Atuhaire is a freelance journalist and blog activist from Uganda, currently based in Nairobi, Kenya.
graceseb@gmail.com