Reproductive health
Involving men to change gender stereotypes
In many African societies, sexual reproductive health issues remain a contentious topic – so it is also in Ghana. The situation is worse among males who are often unwilling to get involved in reproductive health issues of their partners due to social and cultural norms.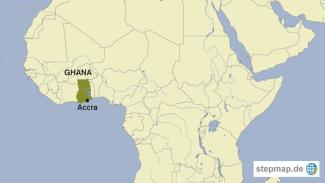 stepmap.de
Men are often brought up in a gender-stereotypical way which takes on negative and dangerous interpretations. Many men feel shy, embarrassed and uncomfortable to talk about and get involved in reproductive health issues. Moreover, most communities in Ghana raise males with a mindset of "manhood" rooted in male chauvinism. For many young men, their understanding of masculine gender roles revolves around a show of macho and some degree of violence and aggression.
A 24-year-old Ghanaian male who prefers anonymity says that "women should know themselves and how to take care of themselves. We are troubled with our jobs, how to make money to support the home and make ends meet." He thinks that reproductive health is a women's issue, that they can handle themselves. He adds: "In fact, there are many health experts today who can help the women while exercising confidentiality."
There is need to change this mindset and encourage males to be more involved in reproductive health, which extends to maternal and child health. Women and girls face multiple challenges because males who are the salient drivers in reproduction and sexuality avoid responsibility. Many females complain of lack of emotional and financial support from their male partners during pregnancy, family planning, prenatal and postnatal care. Pregnant women and girls still must do their domestic work which endangers their health.
Sandra Waterwood, a 23-year-old female university student at Kwame Nkrumah University of Science and Technology says: "As women, we build trust with our partners without shame or prejudice and get assisted. However, most men pretend ignorance when our reproductive concerns are raised. They feel it makes them pliable and judge themselves as misfits leaving the burden on us alone."
There is need for sensitisation to encourage men to become open and overcome gender stereotypes. Moreover, male involvement in women's health would help reduce prevalent challenges such as spread of sexually transmitted infections and diseases like HIV/AIDS. "Menstrual health and 'safe periods' as well as family planning need male involvement in order to build support systems for women and girls," Sandra says.
UN agencies continue to encourage state parties to fight gender stereotypes. Historically, the 1994 International Conference on Population and Development held in Cairo drew attention to the need for male involvement in maternity care. It called for the inclusion of men as partners and role players in maternal health care. The recommendations of the conference were adopted by the Ghana Health Service in a strategic plan. It involves males especially in programmes aimed at promoting maternal health at the household and community levels. Despite this efforts, much more needs to be done.

Bismark Acheampong is a Ghanaian writer.
bismarkacheampongkwasi@gmail.com